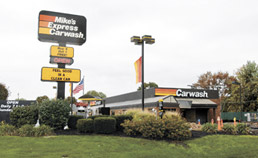 A family feud over the Mike's Express Carwash chain has entered a Hamilton County courtroom. The chain has 20 locations in the Indianapolis area. (IBJ File Photo)
Even the trademark Works wash won't put a shine on a family legal squabble brewing at Mike's Express Carwash.
The privately held company and principals Bill and Mike Dahm, sons of founder Joe Dahm, are facing a lawsuit in Hamilton Superior Court brought by Jerry Dahm, a cousin who owned 35 percent of the company until May.
Jerry claims Bill and Mike fired him after 30 years and forced him to sell his shares in the company at an "unfairly low" valuation after Jerry sought to take out a bank loan using his stake in Mike's as collateral. Bill and Mike are now the only shareholders.
Attorneys for the carwash chain with 37 locations in Indiana and Ohio said in a response that Jerry Dahm has "distorted the facts" to make himself look like a victim.
At stake are a profitable and fast-growing business worth $49 million and real estate holdings valued at $24 million, documents submitted in the lawsuit show.
Bill Dahm, president of Mike's, said in an e-mail that the lawsuit is "totally without merit." He would not comment further.
Jerry, who lives near Fort Wayne, where Mike's was founded in 1948, did not return a phone message. His attorney, Brian K. Burke of Baker & Daniels, declined to comment.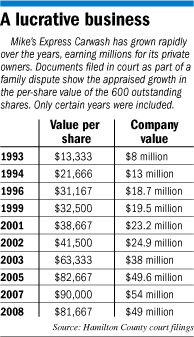 Lawsuits where family and business mix can get particularly messy and disrupt business operations if they drag on too long, said Marcus B. Chandler, a partner at Barnes & Thornburg who advises growth-oriented companies.
"The only lawsuits uglier than divorces are business breakups," Chandler said. "The reason for that is you typically have more money to fight each other."
In nine out of 10 such cases, resolution comes down to valuation of the business and the manner of payout, Chandler said.
Jerry Dahm is asking for an independent appraisal of the value of the Mike's Express Carwash chain, along with a lump-sum buyout offer, damages and attorney's fees.
The trouble started in February 2009 when Jerry tried to take out a loan to cover "personal financial obligations" and sought permission from Bill and Mike to pledge his shares in the carwash chain as collateral. They said no, citing a ban on such encumbrances in a 1993 shareholder agreement.
The suit alleges that Bill and Mike took advantage of Jerry's financial difficulties to try to force a sale of his shares.
"Knowing that Jerry continued to be under serious financial pressure and that he had limited options to address his needs for funds, Bill and Mike secretly and unfairly planned to … reduce [the Mike's Express Carwash] level of distributions to shareholders that had been the pattern in the preceding years," the suit alleges.
He claims Bill and Mike "interfered" with an appraisal that put the value of each of the company's 600 shares at $81,667 in 2008, for a total company value of $49 million.
Negotiations toward a potential sale of Jerry's shares broke down in late 2009. Jerry was fired from Mike's in early 2010 after refusing to sign what the suit describes as an "overbroad unnecessary confidentiality agreement" relating to the potential sale of his shares. Jerry was a vice president for the chain.
The termination triggered a clause in the shareholder agreement that allows remaining shareholders to buy out a fired shareholder at fair-market value. Jerry did not attend the purported closing, and Bill and Mike had to set up a bank account on his behalf to receive the funds, the suit says.
As it stands, Jerry is set to receive payments totaling $17.1 million for his stake in Mike's. Of his 210 shares, 128 went to Bill, 80 went to Mike, and two went back to the company. Bill now owns 368 shares, and Mike owns 230.
Jerry still owns a stake in Dahm Property LLC, which owns the real estate where the carwash chain conducts business.
The real estate is part of the dispute as well: The property arm has been reducing the rent it charges Mike's as leases come up for renewal, effectively boosting the business value and depressing the property value.
The suit calls the rent reductions proof of a "manifest and severe conflict of interest," while the principals in Mike's say the reductions are simply a function of declining real estate values.
A response from the company says Jerry himself requested meetings to push a buyout of his interest in the carwash chain, failed to act honestly on tax obligations and other matters, and disclosed confidential information harmful to Mike's in his lawsuit.
"Defendants have chosen not to disclose all of the details and specifics of plaintiff's actions in this public document because, for their part, they appreciate the confidentiality obligations and respect the privacy of family business."•
Please enable JavaScript to view this content.