At 78, L. Gene Tanner is one of the longest-serving investment advisers working in Indianapolis. In October, Tanner jumped to locally based City Securities Corp., his third professional home since starting in the business in 1958. His original employer, Raffensperger Hughes & Co., was acquired in 1994 by Cleveland-based National City Corp., then National City was snapped up by Pittsburgh-headquartered PNC Financial Services Group Inc. in 2009.

Tanner spoke with IBJ's Norm Heikens about why he shifted to City Securities, his brush with convicted Ponzi scheme operator Bernard Madoff, and how his investment strategy has changed. The following is an edited version of the interview.

IBJ: Why did you leave PNC?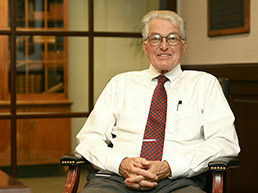 L. Gene Tanner (IBJ Photo/ Perry Reichanadter)
Tanner: It was not acrimonious at all. These large corporations have to run things in models, and I am entirely understanding of that. But it just looked like support was going a little bit away from an individual broker doing individual securities, such as I do, to the wealth management concept, securities sold through the branches. As a matter of fact, PNC is hiring and training a good number of people for branch security sales. I think it makes a lot of sense. But that isn't necessarily the core of my business where I'm doing primarily individual bonds and individual stocks.

IBJ: Would you have left had it not been for the PNC acquisition?

Tanner: Probably not. Although none of us knows. The whole financial services industry is in significant change. Some of it came from the recent legislation, which still isn't in place. Some of it came from almost egregious activities that happened in Wall Street. I think there are a lot more activities to come.

IBJ: How did City Securities structure your deal to get you there?

Tanner: There wasn't any significant deal. It's not anything close to what was dangled out getting brokers from one to another, nothing close to that whatsoever. I was concerned about the three people who came with me that they had a good arrangement. And that was primarily in my mind.

IBJ: How long are you obligated to stay here?

Tanner: None. It's very common in the investment business when a broker leaves one place, he gets a big bonus on a forgivable loan. It could be three, four, five years. I have nothing like that.

IBJ: So this isn't a way for you to cash out and move into retirement?

Tanner: No, absolutely not.

IBJ: What's the main difference between the cultures of NatCity and City Securities?

Tanner: You have to keep in mind that I grew up at Raffensperger Hughes. We grew to be the largest in Indiana, but we were quick to say that that didn't give Morgan Stanley or Merrill Lynch any competition. But we had a culture of, I thought, some real rapport among each other. And it's carried through today, even though most employees are dispersed all around. We lunch and talk, etcetera.

IBJ: This is what you left behind at PNC?

Tanner: Yes. And that's kind of dear to me, that culture. I had it with PNC. But there must be 15, 16, 17, maybe more, old Raffensperger Hughes people here at City Securities. And going beyond that, John Peterson, who is chairman here, and I were in the same class at Shortridge [High School] and IU, and co-chaired our last two class reunions. We've been friends for a long time.

IBJ: You've been in the business a long time.

Tanner: Fifty-two years, yes.

IBJ: How has your investment strategy changed?

Tanner: (Laughs) Well, I should have changed more than I perhaps [did]. I've certainly made more errors over the past several years. I guess that's part of the game. But it's no fun to look at. As a for-instance, the buy-and-hold concept, which many of us had for many decades, certainly hasn't worked. Banks used to be a wonderful avenue for investment because they paid good dividends. And increasing dividends. That whole area has been just a disaster. Many of the bank stocks are only a fraction of what they were a few years ago. And a lot of the other household name stocks have done nothing. Actually, if you look at the past 10 years, the stock market hasn't been a very good place.

IBJ: Which Indiana stocks are you buying?

Tanner: Well, I have pecked away at bank stocks. Many of them are selling at a fraction of their book value. I think the smaller community banks, which are selling at 30, 40 percent of their book value, might not work out today or tomorrow, but I guess if you're looking at a two-year run, those should work out.

IBJ: Didn't you serve on a board with Bernie Madoff at one time?

Tanner: Yes. I was a governor of NASD. That was at the time Bernie Madoff was president of NASDAQ. So we had a couple of joint meetings with them. I can't say I knew him, but we were on a first-name basis.

IBJ: What do you remember about him?

Tanner: At that time, which I believe was '91, '92, I didn't realize he was in the money management business, because the Madoff trading firm was the foremost NASDAQ trading firm at that time. So he was much better known for his trading operations.

IBJ: Would you have had any reason to believe he would be convicted?

Tanner: No, no, he was a very outgoing type of guy. And a high level of respect throughout the industry.

IBJ: You don't use e-mail. How much do you use computers?

Tanner: Well, I use a computer just to get the information related to news items and what's going on.

IBJ: But you have an iPhone now.

Tanner: Yes, that's right. (Laughs) I can find out what the market's doing on it. And I have stocks that I'm interested in.

IBJ: How old is your youngest client?

Tanner: Some I have third generation. Gosh, probably [in their] 20s.

IBJ: What advice would you give a young adviser today?

Tanner: Very high standards. That's what brings you through these markets. Try to match the product with what the people's needs are. Having concern about how much money they make. It's a long-term business.

IBJ: Any plans to retire?

Tanner: Not really.•