A number of local arts professionals are making the jump from Indianapolis to the Center for the Performing Arts in Carmel, which will unveil its Palladium concert hall in January.
Carol Baker has left the Indianapolis Symphony Orchestra, where she was director of education, for a similar job in Carmel, according to a recent announcement from the performing arts center. Before joining the ISO, Baker was director of volunteer and audience relations for the Actors Theatre of Louisville.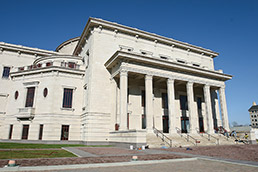 Carmel's Palladium concert hall will open in January. (IBJ Photo/ Perry Reichanadter)
Lee Davis, who was event manager at Clowes Memorial Hall, is one of the Carmel center's new front-of-house managers. At Clowes, she directed all front-of-house staff, including 250 volunteers, and was responsible for patron care, safety, service, contract security, concessions and catering.
Another new front-of-house manager is local actress Maria Eglan. She has worked in house management at The Shakespeare Theater of New Jersey. Currently, she's playing Dorothy in a "Wizard of Oz" play at The Children's Museum of Indianapolis.
Anne O'Brien left the Indianapolis Chamber Orchestra to become the center's sales and marketing manager. She'll also oversee the center's social media strategy.
The center's new individual and corporate giving officer, Emily Lovison, comes from a different not-for-profit sector. She was development director at 100 Black Men of Indianapolis.
A former ISO marketing employee, Heather Mourer, joins the center as the donor relations officer.
Robert Oyler, who has worked at Lucas Oil Stadium, Hilbert Circle Theatre, Clowes Hall and Conseco Fieldhouse, is the center's theatrical systems manager.
Please enable JavaScript to view this content.