Honoree, Private Companies (Revenue $100 million or less)
Brian Modiano, CFO for the cloud computing company BlueLock, is coming off a hectic year. The young startup he helps oversee, which only employs about two dozen, took on a major new client, undertook construction of a new data center, and continued to expand and innovate in a rapidly changing marketplace.
"We had to build the airplane while flying it," Modiano said. "We effectively managed this extremely aggressive growth while taking the company's operational systems from a raw startup to an early-stage, established company."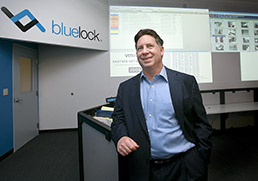 IBJ Photo/ Perry Reichanadter
He helped smooth the company's growing pains by, among other things, leading the development of a monthly reporting system, implementing a weekly cash flow reporting mechanism and using comprehensive forecasting tools that allow management to effectively monitor BlueLock's growth and performance. Also in 2010, Modiano played a key role in raising $2.5 million in equity through a private placement transaction and enhanced the firm's borrowing capacity with a $1.35 million loan and a $500,000 line of credit. In addition he helped BlueLock secure approximately $3 million in tax abatements from Indianapolis and Indiana over the next 10 years.
The city was eager to play ball because the company is clearly on a tear. BlueLock's revenue increased more than 500 percent in 2009 and in 2010 is projected to almost double. The company plans to continue its expansion with a $35.6 million investment in its north-side facility that could create as many as 118 jobs. Not surprisingly, Modiano played a significant role in negotiating the expansion's financial and legal intricacies.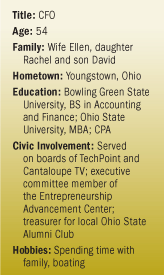 But though the company enjoyed double-digit growth during the past few years, it still felt the sting of tough times. Some customers went out of business, while others either cut back on their purchases or drove harder bargains. Nevertheless, Modiano thinks that his company can actually benefit from the country's cost-cutting, belt-tightening mood by offering firms the chance to outsource IT tasks formerly done in-house. "With the economic downturn causing reductions in IT staff, cloud computing offers tremendous economic flexibility and resource efficiencies," he said. "This has created opportunities for BlueLock because its services enable companies to better focus on their core business, rather than on their IT needs."
On a more mundane level, Modiano also keeps a close eye on the company's balance sheet. "We learned that in an economic downturn, it is even more important to monitor the collection of your accounts receivable," he said. To that end the company instituted new policies and procedures that reduced its days sales outstanding from 45 to under 30.
It's all par for the course for a man whose career spans numerous companies and three decades, including 13 spent as a CFO. His former employers include search engine developer ChaCha, where he served as CFO and treasurer; and Baker Hill Corp., where as vice president and CFO he helped manage its 2005 sale to Experian. He also held several senior financial positions with GE Capital Mortgage Services and Huntington Mortgage Co.
Modiano seems to have a passion for helping startups. Since 2002 he's served on the board of TechPoint, an organization assisting the rise of Indiana's emerging information technology sector. He also serves on the boards of Cantaloupe TV, an entrepreneurial firm that builds and integrates online video magazines, and on the executive committee of the Entrepreneurship Advancement Center, which works with Hamilton County startups.
Professionally, his biggest task is helping to transition BlueLock from brash startup to seasoned player. In 2011 the company plans to introduce a new generation of infrastructure technology, including new networking, storage, and upgrades to the firm's virtualization technology. "All of these initiatives are designed to improve our level of service to our customers by building the strength, agility and reliability of our infrastructure and the people and processes that support it," Modiano said.•
Please enable JavaScript to view this content.