Top Honoree, Public Companies
It seems appropriate that on May 11, 2010, the company formerly known as Conseco changed its name to CNO Financial Group. The name change put the cherry on top of a transitional phase that carried it, in half a decade, from bankruptcy to solvency. Much of the credit for that revival belongs to Edward J. Bonach, CNO's executive vice president and CFO.
CNO, a holding company for a myriad of insurance firms operating across the United States, was muddling through some very hard times when Bonach signed on in 2007, shortly after the firm (then known as Conseco) emerged from bankruptcy. His chief tasks included getting the company out of uncertain, unprofitable sectors of the insurance market, and setting a course toward solid financing and future growth.
"Risk and capital management has been a priority for my 2 ½ years here, and it will continue to be a priority," Bonach said.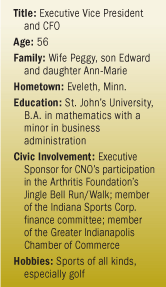 A team of six professionals reports to him, and he has direct responsibility for 200 more—not surprising considering the company's growth. Conseco expanded rapidly in the 1990s, acquiring 44 separate insurance companies. This created a corporate entity that was extremely complicated and difficult to manage.
One of Bonach's first tasks was spinning off the company's volatile Long Term Care business to a private trust, reducing the company's exposure to that sector. This was accomplished just in time to face the next crisis—the financial meltdown that began in autumn of 2008. The company saw a precipitous fall in the value of its investments, a situation exacerbated by the fact that Conseco, having recently emerged from bankruptcy, was undercapitalized. Bonach was nevertheless able to renegotiate the company's credit agreements, providing critical breathing space.
Since then the firm has taken steps both to refinance CNO's debt and strengthen its capital position, including completing a public offering of CNO common stock with net proceeds of more than $220 million, and a private offering of $293 million of convertible debentures. Bonach has also undertaken company-wide efforts to, among a great many other things, reduce operating costs, streamline administrative procedures and consolidate back office operations. All of which helps reassure outside observers that CNO's comeback is for real.
"One of our biggest tasks is getting investors and other stakeholders to recognize the fundamental changes and improvements in CNO and to not continue to look at us through the lens of the past," Bonach said.
That happy state of affairs may have already come about. Early in 2009 the company's stock dipped to an abysmal 26 cents. Since then it has rebounded into the $5 range. CNO has also strung together six profitable quarters.
As the company regains its footing, Bonach continues a major drive to consolidate its dozens of holdings down to three divisions: one for career agent distribution, one for independent distribution and one for direct marketing.
His biggest achievement is helping to return the company to consistent profitability. His biggest challenges this year have been dealing with the sluggish economy and persistent low interest rates.
But there may be an ace in the hole. Baby Boomers keep getting older. The older they get, the better CNO's prospects will become. "I believe that we will continue to build on our positive momentum and are poised to profitably grow even faster as the first of the Baby Boomers begin to turn 65 in 2011," Bonach predicted.
Those Boomers—otherwise known as middle-income Americans primarily ages 65 and older—are CNO's target market.•
Please enable JavaScript to view this content.