Honoree, Public Companies
The fact that Old National Bancorp—at 176 years Indiana's oldest financial institution—will survive to see its 177th birthday is largely attributable to the old-fashioned fiscal conservatism personified by its CFO, Christopher A. Wolking.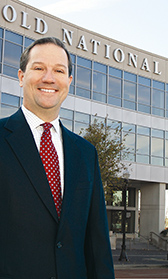 Photo Courtesy Old National Bancorp
Founded in Evansville in 1834, the company is the largest financial institution headquartered in Indiana, with total assets of approximately $8 billion. In addition to retail and commercial banking, Old National provides investment, wealth management and cash management services, and owns one of the state's largest independent insurance agencies.
While other financial entities self-destructed after making questionable bets during the good times, Old National avoided disaster by passing on the riskier stuff. Most tellingly, the company has no sub-prime mortgage exposure. This allowed it not just to survive during tough times, but thrive.
  "Old National confronted the difficult operating environment, and we've managed to exceed analysts' earnings expectations every quarter this year," Wolking said. "We've done this by reducing expenses, managing to stay ahead of the shifting regulatory environment, and continuing to make good lending decisions."
Not that the turbulence of the last few years didn't deal Old National some bumps—including a dustup with the TARP program.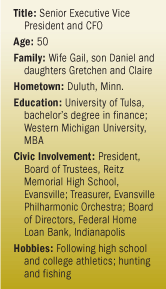 In late 2008 the company was asked by the Department of the Treasury to participate in the Capital Purchase Program for strong, healthy banks. The bank signed on, only to see the scheme (which is under the TARP umbrella) painted in an increasingly negative manner. So the company, under Wolking's guidance, became one of the first four banks to repay the funds and exit the program. He also worked with an outside firm to develop a self-administered "stress test" that the company easily passed.
Moving from challenge to challenge, he was then asked to help secure fresh capital for the company—during a time when ready cash was roughly as easy to obtain as a zero-down home mortgage. Nevertheless he helped draw $200 million in fresh funds to the bank's coffers.
Wolking, who took over the CFO position in January 2005, was a key member of the Old National team that in 2009 partnered with Citizens Financial Group to acquire the Indiana Charter One franchise, giving the bank the third-largest branch network in Indiana. He also spearheaded the integration of several insurance entities into one division, the Indianapolis-based Old National Insurance, and developed a more detailed budgeting process for banking centers, improving forecasts and goal setting.
He watches the government's actions closely, because the fortunes of his employer could depend on it.
"The financial services industry is experiencing the most sweeping change in its regulatory environment that I have seen in my 28 years in the business," Wolking said. "The associated costs of complying with new regulations, compounded with restrictions on fees, a slow economy, and pressure on capital will have significant ramifications for community banking over the next several years."
Though Wolking still harbors a bit of a bunker mentality, he does foresee a day when it will be safe to sound the all-clear and walk around outside again. "The economy will recover slowly, but I'm certain it will recover," he said. "This is America, after all, and we're pretty good at adapting and overcoming challenges. I'd expect short-term rates to begin to rise late in 2011 or early 2012. I am very concerned about inflation once the economy begins to recover. I hope the Fed is vigilant and nimble, and I'd like to see brakes put to the current fiscal stimulus."•
Please enable JavaScript to view this content.