Hovering around the thousands of Indiana properties in the foreclosure process is a debate over who pays to trim the weeds and keep the houses boarded up.
Government officials—as well as some housing experts—say it should be left to the banks and other financial institutions holding the loans on the properties.
But the banks say that's an unnecessary and unfair burden at a time their industry is struggling.
Lawmakers are expected to weigh those arguments in the next legislative session. Rep. Phil Hinkle, R-Indianapolis, is drafting a bill that would make mortgage lenders responsible for properties after borrowers have surrendered them or banks have filed for foreclosure.
Under the current system, those properties remain in limbo until the foreclosure process is complete and banks and other lenders become the official owners.
That limbo lasts awhile. In Indiana, the foreclosure process takes 1-1/2 years on average as cases wend their way through the cumbersome judicial process.
Meanwhile, owners typically move out of the homes either after they've surrendered them or the foreclosure process has begun. The properties, in turn, become engulfed in weeds and trash, making them a drag on surrounding property values and prime spots for crime.
"They are properties that tend to be unmaintained because they fall into the twilight zone of ownership," Hinkle said. "They just kind of linger out there, and no one wants to know or admit to ownership. But when they do go unmaintained, they're allowing neighborhood values to go downhill."
Lobbyists for the banking industry acknowledge that's a problem. But they say financial institutions shouldn't be stuck with the maintenance costs.
The efforts likely would most affect big banks such as Chase and Bank of America, which have a higher volume of mortgage loans.
But community banks, whose loan portfolios are smaller, also could take a hit if they had to divert resources toward paying for maintaining lawns and preventing squatters.
"[Banks'] cash flow needs to be in capital and not be spent on mowing grass if we really want to spur the economy," said Amber Van Til, vice president of government relations for the Indiana Bankers Association, who pushed against a similar effort in the Statehouse last year. "Banks are not in the business of being home remodelers."
Taking responsibility
But if banks aren't in that business, who is?
In Marion County, the responsibility falls to agencies such as Health & Hospital Corp. and the city's Department of Code Enforcement. Those entities clean up trash and board up properties, trim weeds and, in some cases, demolish buildings that are unsafe.
But those activities are based on neighborhood complaints because the city doesn't have resources to be proactive, said Rick Powers, the city's director of code enforcement. And they don't address some aspects of disrepair, such as peeling paint, which may not warrant a code violation.
The bill for those tasks often gets passed on to the owner of record, which, prior to the foreclosure's being complete, is the borrower on the loan. So in the case of properties that have been surrendered or are in the foreclosure process, bills go unpaid, and the cost of upkeep gets tacked onto the property in the form of liens.
The Marion County Treasurer's Office has billed $10.3 million in liens for the agencies this year—part of which includes upkeep on properties in foreclosure limbo.
Indiana had 5,505 new foreclosure filings in October, which amounts to one in every 508 housing units, according to California-based RealtyTrac. That includes 1,873 just in Marion County.
The city recoups its money when the property sells in a tax sale or sheriff's sale. But because it takes months—and in some cases years—for the properties to go on the market or sell, recovering the money is a slow process.
The Department of Code Enforcement, for example, has recovered on average in each tax cycle 35 percent of what it has issued in liens over the two years it has been responsible for maintaining high weeds and grass.
The new process would allow cities to issue fines if banks didn't maintain properties and to enforce them by court action.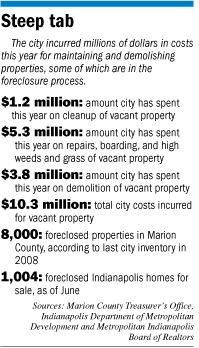 "We're at a point with tough financial times, we've just got to hold people accountable and responsible," said Cindy Land, administrative deputy with the Treasurer's Office who has worked with Hinkle on the legislation.
Those in the banking industry counter that local government units have adequate tools. A law passed last year allows cities—rather than just banks—to file an order to have the sheriff's sale scheduled to finalize the foreclosure if 120 days have elapsed since clearance was given by a court to file such an order.
The law was intended to counteract what some officials say has been foot-dragging on the part of banks to finalize foreclosures.
Once the foreclosure is complete, Van Til said, banks and other lenders take quick action to fix them up so they can prepare them for resale.
But in some cases, banks have waited to record the deed on the property until it's ready to be sold. That allows them to keep who has ownership—and therefore responsibility for maintenance—unclear without a detailed search.
For instance, a bank foreclosed on the deteriorating white bungalow at 1436 Lexington Ave., in 2007, but a bankruptcy filing the following year showed the property still in the previous owner's name.
County records show the property has racked up close to $1,000 in liens for weed trimming and other upkeep.
Francia Duncan, 40, who lives a couple of houses east of the property, said neighbors call the city regularly to report weeds. When the grass gets high, Duncan said, the porch becomes a spot for squatters and drug dealers.
And Duncan becomes afraid to let her 12-year-old daughter ride her bike on the street.
"If there's a drug deal gone wrong and they start shooting," Duncan said, " you don't know where the bullet is going to go."
Widespread problem
While such problems are more acute in urban neighborhoods such as Duncan's, suburban communities are hardly immune.
Rachel Quade, a real estate agent who is president of the homeowners' association for the upscale Springs of Cambridge subdivision in Fishers, said she and other neighbors began to notice high weeds in properties going through foreclosure a couple of years ago.
To deal with the problem, the association hired the company that mows the grass for the subdivision's common areas to maintain the yards of the properties in limbo, then tacked the liens onto the home for banks to pay when the properties are sold.
But not everyone has an association to act as a middle man. That's why other communities, including several in California, have passed ordinances requiring financial institutions to keep up properties—in some cases threatening criminal penalties if they don't.
Officials in other cities, such as Cleveland, Ohio, and Buffalo, N.Y., have used existing state laws to try to recoup costs or enforce payment.
Experts say Indiana's legislation wouldn't eliminate all uncertainty about who should be responsible for upkeep. It might be daunting, for instance, to identify which financial institution was responsible in a complex milieu of loans that are bundled and sold.
That was a problem in New Jersey, which has a law with a similar objective to the one Indiana lawmakers are drafting.
"In the way you draft the bill, you've got to write it very carefully so that someone is clearly responsible no matter what," said Alan Mallach, a senior fellow at the National Housing Institute who helped write the New Jersey law. "It's good policy—it makes sense, it's ethical and responsible—the catch is, it's only as good as the respective city's ability to enforce it."
Those on the side of banks favor alternatives they say wouldn't deal the financial institutions such a blow. Those could include speeding up the process, in some cases using mediators rather than judges.
That's an idea, Van Til said, that could be explored in a summer study session next year.
While they may not have reached a consensus, both sides agree on the problem's magnitude.
"It all feeds back into this larger question of who takes responsibility for low-value properties," said Bill Taft, executive director of Local Initiatives Support Corp., which assists not-for-profit developers and supports requiring banks to pay for upkeep early in the process.
"Our system is not built for either the public or private sector to take responsibility, so it becomes a plague."•
Please enable JavaScript to view this content.