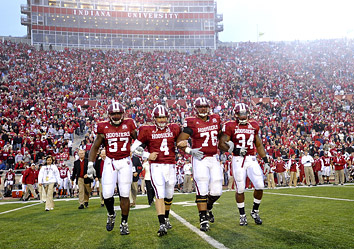 The Indiana Hoosiers have given new football coach Kevin Wilson a seven-year contract worth $1.2 million per year.
The school announced contract terms about 15 minutes before Wilson's introductory news conference Tuesday.
Wilson has been the offensive coordinator at the University of Oklahoma since 2006 and worked under coach Bob Stoops since 2002. He also worked previously on the staff at Miami (Ohio) with Terry Hoeppner, the late Hoosiers coach who died from brain cancer in June 2007.
Wilson's hiring comes nine days after athletic director Fred Glass fired Bill Lynch, who had three straight losing seasons after taking Indiana to a bowl game in 2007. He will become the Hoosiers' sixth coach since 1996.
Lynch posted losing records in each of his last three seasons in Bloomington and won only three Big Ten games over the same three-year span after leading Indiana to a bowl game in 2007, Indiana's first postseason appearance since 1993.
Wilson told reporters in Oklahoma that he interviewed in Indianapolis on Monday but was not offered the job until he returned home.
In October, Wilson received a pay raise to $430,000 per year.
When Glass fired Lynch on Nov. 28, he said the university would be willing to pay top dollar to find a new coach — thanks in part to the millions each conference school is getting from the Big Ten Network.
Indeed, IU's football program has been making strides financially, increasing attendance and revenue this season despite its on-the-field struggles.
In 2008, Wilson won the Broyles Award as the nation's top assistant after the Sooners scored an NCAA-record 716 points. Quarterback Sam Bradford also won the Heisman Trophy that season. Bradford went on to be the No. 1 pick in last year's NFL draft and is the favorite to win this year's Offensive Rookie of the Year Award.
This season, the Sooners finished fourth in the nation in yards passing per game (336.8) and were No. 17 in scoring offense (36.4 points).
While Wilson might not have the depth of Oklahoma when he arrives, but he could have a talented group to build around at Indiana if everybody stays — as players said they would.
The next step is a meeting between Wilson and the Indiana players.
Wilson will start the rebuilding process with a large group of talented receivers.
Damarlo Belcher, a 6-foot-5, 215-pound junior, returns after catching a team-high 78 passes for 832 yards and four touchdowns. Also back are 6-3, 200-pound receiver Duwyce Wilson, who had 32 catches for 488 yards and three scores, and tight end Ted Bolser, who had five TD catches. Both are redshirt freshman.
Indiana's most talented runner, sophomore Darius Willis, should be healthy, too. He missed the final eight games after having season-ending knee surgery in October.
Plus, if junior Tandon Doss decides to stay in college instead of leaving for the NFL, Wilson can build around the Hoosiers' most versatile offensive player. The 6-3, 195-pound junior was third on the team in receiving (63 receptions, 706 yards, seven TDs) and rushing (11 carries, 163 yards, one TD).
But he will have to pick a quarterback. Two-year starter Ben Chappell has graduated, and it could be a two-man race between redshirt freshman Dusty Kiel, the nephew of former Notre Dame quarterback Blair Kiel, and redshirt freshman Edward Wright-Baker, who is more of a dual threat.
And Wilson will get to rebuild his personal rivalry with Nebraska, which will become the newest Big Ten member next season. Following Saturday's Big 12 championship game, Wilson talked about the end of the Oklahoma-Nebraska rivalry and compared it to that of the Celtics-Lakers.
Please enable JavaScript to view this content.