At first blush, One Click Ventures seems to be just another e-commerce firm, albeit one operating an impressive nine sites, from ABCNeckties.com to Socks4Life.com.
While retailing is how the Greenwood apparel company makes its money, One Click is also a well-dressed iteration of central Indiana's so-called "measured marketing" sector.
You know that genre—firms such as ExactTarget, which produce e-mail marketing software. Or Compendium, which enables firms using its blogging software to show up high on search engine results.
Except in this case, One Click developed its own template and proprietary tools that use various marketing channels to squeeze more cash out of existing e-commerce sites it buys on the cheap.
"The core expertise here is online marketing," said Randy Stocklin, CEO, who—with his wife, Angie—founded One Click almost five years ago. "What we've built is a marketing team that can attack every channel."
That this is virtually a technology company in disguise is evident in Stocklin's management team, which includes Indianapolis tech firm veteran Keith Midkiff, former chief financial officer of Interactive Intelligence.
One Click also brought on board, as chief marketing officer, Mark Easterday, a former manager at Old Dominion Freight Line.
Sales have grown from $80,000 in 2006 to a projected $3.3 million when the books are closed for 2010. Their goal for 2015: revenue of $40 million from 50 Web stores.
"I've seen a few growth companies," Midkiff said, "and they [One Click] really have the vision."
That vision includes acquiring additional Web stores—perhaps four more next year.
"The one thing we focused on from the very beginning was scale," said Randy Stocklin, 33. He'd held management and engineering positions at local firms including Angie's List and marketing software giant Aprimo.
He and Angie started the firm out of their home in 2005. "After a while, it started to take over our house," said Angie Stocklin, who quit her job as a school psychologist and is chief operating officer.
Their first acquisition, using their personal savings, was Tampa-based SunglassWarehouse.com. The company typically pays thousands, or tens of thousands, to buy a site.
Often, what those sites lack is a digital marketing strategy. What One Click developed was a comprehensive digital marketing template it could apply to sites it acquired.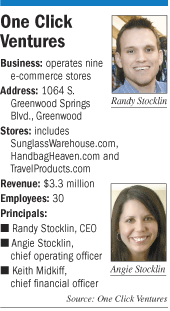 Its team of 30 employees includes specialists in various forms of measured marketing, including e-mail, social media, search engine optimization and paid-search. It's a young group, ranging in age from 23-26, with many having graduated from universities with specialties in digital marketing, such as Ball State.
The e-commerce sites alone have more than 20,000 followers and fans, One Click says.
Midkiff likens One Click's comprehensive marketing channel approach to screwing in a few more light bulbs to give the sites more presence on the Web and to drive more traffic and sales.
One Click handles all its product fulfillment in-house, from a 12,000-square-foot warehouse near Interstate 65 and County Line Road.
Midkiff said the company has been profitable, with acquisitions funded by cash generated by boosting the value and sales of websites it acquires.
In August, the company bought its first website outside of apparel—TravelProducts.com.
One Click may also enter an entirely new realm—acquiring blog sites. It would apply its measured marketing magic to drawing more traffic to the blog sites to pump up ad revenue.
If all goes as planned, One Click expects to double its head count, to 60, in 2011.•
Please enable JavaScript to view this content.