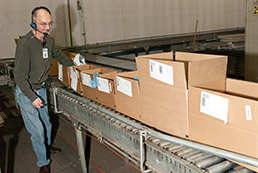 Tom Crail works in the local warehouse for United Stationers. Independent Stationers contracts with the firm to provide logistics services at 31 warehouses nationwide. (IBJ Photo/ Eric Learned)
A local company whose mission is to help mom-and-pop office-products dealers survive has a new weapon in the fight against big-box retailers.
Indianapolis-based Independent Stationers is among just a few national office-supply cooperatives that have helped smaller companies remain competitive even as independents in other industries, such as grocery retailing, become largely extinct.
It's already a heavyweight, providing buying power and services for 310 member firms across the country. But company officials believe a contract it recently landed will fuel explosive growth, doubling its $240 million in annual revenue.
In August, Independent Stationers won a competitive bid that will allow its members to sell directly to the 42,000 public entities such as cities and schools that belong to U.S. Communities, a government purchasing alliance. The company will replace Office Depot, which held the contract for 14 years, as the principal supplier.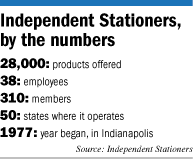 That means if U.S. Communities' members opt to purchase through the alliance, they'll be buying from one of the Independent Stationers' dealers—a lucrative prospect. For Office Depot, purchases from those members totaled more than $500 million last year.
"It's like a stimulus program in and of itself," said Mike Gentile, Independent Stationers' president and CEO. "We just want to be in the game."
The cooperative started in 1977, when a group of seven independent office supply dealers figured out they could purchase products from manufacturers such as Avery and 3M at a lower cost by combining their orders. Over the years, the company has expanded its dealer network and its services.
In addition to providing purchasing power, Independent Stationers helps the dealers market their individual brands and provides the Web infrastructure for online sales.
Dealers in the network purchase supplies from Independent Stationers, which keeps the revenue from those sales and buys its products directly from manufacturers to get competitive prices. The cooperative also earns money through membership fees.
Most of the dealers sell to clients within their state or the neighboring state. But Independent Stationers contracts with a national firm that provides warehousing and logistics services at 31 locations across the country. So a dealer in Indiana could supply to a client in California.
The members are spread across 50 states and have annual sales ranging from $3 million to $100 million, but they all have one thing in common.
"They get up every day and compete against 800-pound gorillas," Gentile said.
For most of the dealers, that means providing a friendly touch they say is harder to get at the big-box stores.
"That's what we go to market with—our flexibility to service the customer to the very end," said John Hauptstueck, owner of Richmond-based Rosa's Office Plus, which serves customers in 82 counties in Indiana and five in Ohio.
For example, Hauptstueck said Rosa's delivery drivers have made stops to buy non-office items that customers need.
Hauptstueck projects the U.S. Communities contract will help his company triple its revenue next year to $20 million. He has increased his 10-person sales force by six, and has another 10 employees coming on board next month.
Previously, Rosa's Office Plus could sell to units of government, but had to submit bids to each. Now his employees can sell directly to any government agency that is part of U.S. Communities without bidding separately.
But there are plenty of caveats that come with that opportunity, said Brad Thomas, an analyst with KeyBanc Capital Markets who follows the office-products sector.
He said it could be a struggle for independent dealers, as it would be for big-box retailers, to provide the consistently low prices mandated in the U.S. Communities agreement.
And big-box competition for government business will remain. Since losing the U.S. Communities partnership, Office Depot has secured deals with other buying consortiums and is fighting to keep customers.
"We believe Office Depot is in a position to retain a large portion of those customers," Thomas said. "They're already customers Office Depot is working with day in and day out, which will give them a leg up in the retention process."
Independent dealers aren't deterred. Gentile said his members already have started to lure thousands of U.S. Communities members to do business with them, though he wouldn't specify a number, and is expecting a bigger uptick next year. He thinks government agencies will be eager to take advantage of the opportunity to buy their office-supply products from local dealers.
David Bottorff, executive director of the Association of Indiana Counties, thinks the buy-local marketing pitch will resonate with his members.
"In the past, when Office Depot was doing it, we'd get some comments from our members, 'We'd really like to support local business,'" Botorff said. "It gives them extra incentive—it's an Indiana company that has ties here."•
Please enable JavaScript to view this content.