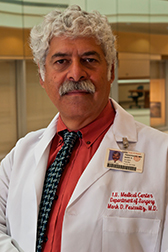 (Photo courtesy Indiana University)
Dr. Mark Pescovitz, a surgeon at the Indiana University School of Medicine, died Sunday in a car accident outside Ann Arbor, Mich.
According to a medical school spokeswoman, Pescovitz was on his way home to Indianapolis after visiting his wife, Dr. Ora Hirsch Pescovitz, who is CEO of the University of Michigan Health System. The couple has three grown children.
Mark Pescovitz joined the IU medical school in 1988, running its transplant immunology laboratory and serving as vice chair of research in the department of surgery.
"This unexpected tragedy reminds us all of the fragility of life," Ora Pescovitz wrote on her website at the University of Michigan. "My children and I will treasure Mark's memory, and take solace from knowing how many lives he saved and touched throughout his career and life. He was a wonderful father, husband and friend, as well as an astute and creative artist, researcher and surgeon."
Ora Pescovitz was the CEO of Riley Hospital for Children in Indianapolis and the head of research at the IU medical school, before taking the job at the University of Michigan in May 2009.
A funeral for Mark Pescovitz will be held on Thursday at 2 p.m. at Congregation Beth-El Zedeck in Indianapolis.
Please enable JavaScript to view this content.