I intended for this to be a column focusing on holiday film releases. Unfortunately, technicalities got in the way of my being able to comment on some of the better ones.
For instance, there's "True Grit," the Coen Brothers' take on the novel that became a hit film for John Wayne back in 1969. When the Indiana Film Journalists Association gathered to argue the merits of our favorite films of the year and come up with a Best of List (which you can find at www.ibj.com/arts), "True Grit" was one of the films I advocated for a top spot.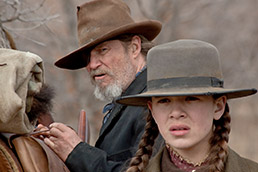 Jeff Bridges fills the shoes (and eye patch) of John Wayne in the "True Grit" remake. Hallie Steinfeld co-stars. (© 2010 Paramount Pictures. All rights reserved.)
Why? Well … I can't really tell you. The film was screened for journalists under an embargo agreement that keeps us from sharing our specific thoughts on the film until its release date, Dec. 22—even though national press has already chimed in with its thoughts. I'd love to tell you that the film is rich in character and sharp in dialogue, and that nearly every frame looked like it could hang in the Eiteljorg Museum of American Indians and Western Art.
But I'm a man of my word, so I can't.
So I'll move on to "I Love You Phillip Morris," the Jim Carrey comedy that is the most … oops, can't really review that one either. Not until Dec. 24. Anyone who has seen previews or reads entertainment news knows that Carrey plays a gay con artist. What you may not be able to tell is that it's full of other surprises, making it the most unique comedy I've seen all year. Remind me later in the month to tell you that there are fun performances from Carrey, Ewan McGregor and Leslie Mann. And that the easily offended should stay away. This ain't "Will and Grace."
So what can I tell you about? Well, there's "The Fighter," which opened Dec. 17, so it's not a problem. Even though there are other films I've liked better this year, "The Fighter" is the easiest to recommend. That's because this story of boxing half-brothers, one on the way up and the other on the way down, tells a compelling, unfamiliar story (avoid reviews or feature stories with spoilers for this one) and is peopled with terrific characters with optimal casting in the leads.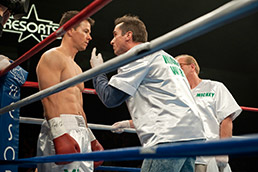 Mark Wahlberg and Christian Bale play boxing half-brothers in the gritty drama "The Fighter." (© 2010 Paramount Pictures. All rights reserved.)
Mark Wahlberg plays the younger, coming into his own and out of the shadow of his brother, tackled with humor and edge by Christian Bale. Melissa Leo may finally get the recognition she deserves (Heartland Film Fest-goers should remember her as the flight attendant in "The Space Between") as their would-be-controlling mother. More of a drama of family dynamics than a typical boxing movie, this one has heart and soul—and a mob of extremely creepy sisters.
Also in theaters now is "127 Hours." Much has been written about a particularly grueling and gruesome segment of this film, which tells the true survival story of an adventurer whose arm is pinned by a rock. But that detailed scene is necessary to this surprisingly hopeful film directed by Danny Boyle, of "Slumdog Millionaire" fame. James Franco is outstanding, holding our attention on his own for most of the running time.
Filmmaker Tom Hooper (of the "John Adams" TV miniseries) sometimes gets in the way of "The King's Speech" when he'd better serve the material by just cleanly telling the story. But that's a minor complaint in a winning historical film built around George VI's efforts to wrestle his stuttering under control as World War II and radio combine to make the monarch's ability to communicate forcefully a matter of global importance. Colin Firth is everything you'd want him to be as the temperamental royal, Geoffrey Rush is terrific as the teacher, and Helena Bonham Carter is refreshingly gimmick-free as the queen.
For more real-life drama, "Bourne Identity" director Doug Liman proves that political action can be as exciting as physical action with "Fair Game." The film compellingly tells the complex story of CIA agent Valerie Plame and her enraged husband Joe Wilson (Naomi Watts and Sean Penn are both excellent). What could have been dry, yesterday's news emerges as a riveting and perhaps important look at what can happen when power becomes more important than people.
If you've got a younger tribe, skip "Tron: Legacy" (which felt like "Speed Racer" meets the worst of the "Matrix" sequels) and, instead, visit—or revisit—"Tangled."
This Rapunzel redo demonstrates a return to Disney magic that, for my money, is the best non-Pixar film from the mouse factory since "Beauty and the Beast." It's a shame that "Toy Story 3" and "How to Train Your Dragon," two terrific flicks, may crowd it out of the awards running.
And, finally, if you are looking for a wonderful family film on DVD, grab a copy of "Ramona and Beezus," based on Beverly Cleary's popular book series. It's deceptively difficult to craft a movie with all-ages appeal that doesn't become hokey or forced. This story of a misfit kid and her family is funny, gently moving, and has just the right cast to keep it from being cloying. It's on my short list of my favorite films of the year, along with "Never Let Me Go," "Tangled," "The Social Network" and (shhhh) "True Grit."•
__________
This column appears weekly. Send information on upcoming arts and entertainment events to lharry@ibj.com. Twitter: IBJArts and follow Lou Harry's A&E blog at www.ibj.com/arts.
Please enable JavaScript to view this content.