A booming smart-phone market, a timely deal with HHGregg, and the launch of Apple's iPad have helped transform a chain of strip-mall cellular shops based in Marion into a national powerhouse.

The Cellular Connection operates more than 620 stores in 26 states and logged more than $300 million in revenue last year. The company, a descendant of a small electric company founded in 1939 that now operates as a Verizon Wireless partner retailer, started 2010 with 300 stores. It hopes to operate more than 1,000 locations by the end of 2012.

The chain's growth got a boost last year when it landed a deal to operate 164 cellular shops inside HHGregg stores. Cellular Connection pursued the deal at Verizon's prompting after its own corporate stores inside Circuit City locations shut down as part of that chain's bankruptcy liquidation.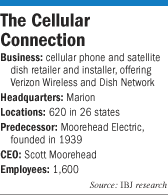 HHGregg officials declined to comment, citing a quiet period before the locally based company reports earnings later this month.

Another boon for The Cellular Connection has been sales of Apple's iPad, as one of the four largest independent retail chains to offer the device on the Verizon network, said Scott Moorehead, Cellular Connection's CEO.

The company and its largest competitors with the Verizon imprimatur—Wireless Zone of Connecticut, Cellular Sales of Tennessee, and GoWireless of Nevada—are free to scout for store locations wherever they want.

But Verizon retains the authority to approve each location and takes care to keep authorized shops far enough apart to prevent the poaching of customers, said Moorehead, 33.

"It's very much a big-player's game at this point," he said. "Verizon isn't doing mom-and-pops anymore."

Five or six years ago, cell phones were starting to resemble a commodity, with customers buying them simply to talk. Mall kiosks proliferated. Gas stations and grocery stores sold them cheaply.

But a dizzying array of new smart-phone options has brought back the value proposition in stand-alone mobile-phone shops, said Sean Fitzgerald, vice president of franchise development for Wireless Zone, a Verizon retailer with 400 locations that began in 1988 as The Car Phone Store.

Customers can still get phones anywhere, but there are fewer places to find someone to explain features and plans and advise on accessories.

"It's very similar to what a pro shop is to a golfer," Fitzgerald said. "You can ask a pro, test the clubs, and figure out what's a good fit for you. As long as people have questions and don't know what they can do with these phones, there's going to be business."

In 2010, about 40 percent of activations were smart phones, up from 20 percent a year earlier, Fitzgerald said. His company sells franchise locations and has avoided opening kiosks in other retailers.

Meantime, The Cellular Connection's mix is about 400 company-owned stores and 200 licensed stores.

Even before the deal with HHGregg, The Cellular Connection had been growing about 25 percent a year, said Moorehead, whose grandfather founded Moorehead Electric in 1939. His father took over in 1969, and began offering phone service under the Moorehead Communications name. The company opened its first cellular store in 1990.

The chain gets a portion of its revenue, 5 percent to 10 percent, from sales of Dish Network systems. It employs about 1,600 people, including 150 at its headquarters in Marion.

Moorehead acknowledges there are risks in selling technology that is changing so fast, to customers who may opt to buy directly from service providers or online. Not long ago, hundreds of pager shops had to close or retool as cell phones began to displace beepers.

"The risks are great, but the reward seems to be worth it at this point," Moorehead said.•