It doesn't take conservatory training to hear the hype about the acoustical quality of Carmel's new concert hall.
Engineers are still fine-tuning the Palladium's sound, but according to widespread advertising, it's "perfect." The Center for the Performing Arts isn't the only organization playing up acoustics. Indiana Landmarks is taking pains to preserve the acoustics of the Old Centrum, a former Methodist church north of downtown that will open in April as a venue for music and other events.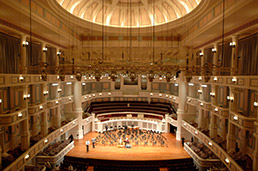 The $119 million Palladium in Carmel was designed for superior acoustics. That's a theme of advertising for the hall's inaugural season. (IBJ file photo)
Mark Szobody, director of special events for Indiana Landmarks, thinks a venue's acoustics are an important selling point.
"It's persuasive to musical groups," he said. "We hope to have all kinds of cultural performances in our space."
The $119 million Palladium's acoustics were designed by Artec Consultants Inc., a New York firm that has worked on a number of concert halls around the world.
"Palladium is an Artec hall and all professional, world-class musicians know that if Artec designed the acoustics, then it will be magnificent," Steven Libman, executive director of the performing arts center, said via e-mail. He was not available to comment further.
Artec President Damian Doria declined to call the Palladium perfect.
"I don't know if there's any such thing as perfect acoustics because that changes with what's performed," he said. "I would say it's going to rank up with great halls in the United States."
While musicians appreciate venues that are true to sound, acoustics aren't an overriding factor in deciding where to play, said Mark Steiner, the owner of Steiner Talent, a Springfield, Mo., firm that brokers dates for classical and other acts.
"Their main concern is, can you afford to book them?" he said.
The Cleveland Orchestra will play in the Indianapolis area for the first time since the 1960s when it appears May 22 at the Palladium. The date in Carmel was arranged because it's the Palladium's inaugural season, Communications Director Ana Papakhian said.
The Artec-designed acoustics were not a driving factor, she said. The orchestra "doesn't just choose someplace because of the acoustics," she said. "It can be an added benefit for the whole package."
The Indianapolis Symphony Orchestra moved from Clowes Hall to Hilbert Circle Theatre, a historic movie palace, in 1984 after a renovation that included improving the acoustics. Papakhian, who used to work for the ISO, said one of the theater's lingering problems is that musicians have difficulty hearing one another across the stage.
"It's not horrible. Certainly the ISO could benefit from a better hall," she said.
Suspended canopies
Artec is best known for creating large, adjustable canopies suspended above stage. Each panel in the canopy can be adjusted to balance the sound from different sections of an ensemble, say strings and percussion. The canopy also can be raised completely to create more room for amplified pop acts.
The panels in the Palladium are made of glass, which was architect David Schwarz's choice, Doria said. Although glass isn't an ideal material for acoustics, Artec made up for it by varying the thickness and shapes of each panel, he said.
Another factor is the size of the audience, which can "dry up" the sound in a room, Doria said. With relatively few seats, 1,600, the Palladium should avoid that effect, he said.
The Old Centrum seems to have hit on its acoustical reputation by chance. Working in the late 19th century, the architects followed a theater-style floor plan that was popular for Protestant churches. Curved rows of pews emanate up a sloped floor from a central pulpit. An adjoining Sunday-school room is paneled in wood, an ideal acoustic material.
Tina Connor, executive vice president at Indiana Landmarks, said she's not sure whether acoustics were a high priority for the architects, but the preservation team is trying not to ruin the sound that has drawn praise from people like Indianapolis Symphony Orchestra concertmaster Zach DePue.
DePue, cellist Geoff Lapin and pianist Marianne Tobias played a private recital in the Old Centrum in the summer of 2009 that helped persuade billionaire Bill Cook to put up $7 million for the restoration. Cook, the owner of Cook Medical in Bloomington, is a marching-music buff, as well as historic preservationist.
The preservation team decided not to replace the sanctuary's wood pews with modern seats, Connor said. Also on advice from musicians, the team decided to cover the wood floors with carpet only in the aisles.
The Old Centrum, which will be renamed Indiana Landmarks Center, will have a 400-person capacity in the former sanctuary, to be called Cook Grand Theatre. It will join a roster of similar-size venues that includes the Basile Theatre at the Indiana History Center, Lilly Performance Hall at Uindy's DeHaan Fine Arts Center, and the Athenaeum.
The Indianapolis Chamber Orchestra has played all the smaller venues, and each one has its strengths and weaknesses, Music Director Kirk Trevor said. Only one location, Saints Peter and Paul Cathedral, drew enough complaints from the audience that he chose to abandon it.
"I don't think an audience knows if a room is good, other than if they can't hear it, or it's too loud, or too boomy," Trevor said.
Trevor is intrigued by the Old Centrum, but whether to play there will depend on other factors, such as parking, he said. "Parking is a major issue for people."
Indiana Landmarks created a lot north of the Old Centrum that, when combined with parking at the nearby Morris-Butler house, will provide 75 spaces. Another 60 spaces are available on the street.
'Awe-inspiring'
Steiner, the booking agent, said refined listeners will invariably have something to say about acoustics, but there aren't enough of them in a market the size of Indianapolis to fill a 1,600-seat hall.
That might be a good thing, if many people come away with the same impression as Howard Edenberg, a regular classical and jazz concert-goer. He attended an American Pianists Association rehearsal at the Palladium in November and was disappointed by how "muddy" the soloists sounded.
"They made a big fuss about it being such a great place, and it just wasn't," the 62-year-old music aficionado from Indianapolis said.
Trevor said he heard similar reviews before the chamber orchestra's own rehearsal, but didn't think the negative comments were warranted.
"We didn't find it so difficult," he said.
Steve Kern, a 63-year-old classical music fan, attended two tune-up concerts at the Palladium, and he said the acoustics were clearly a work in progress.
"I trust their claim that it's excellent," he said.
Whether he attends in the future will depend on the artist and program.
"That would be a more determining factor for me than the venue, by far," he said.
In one Palladium brochure, potential concert-series subscribers are told, "You're about to experience an environment that is both awe-inspiring and acoustically perfect."
Scott Cantrell, classical music critic for the Dallas Morning News, isn't surprised by that kind of language.
"There's a lot of false advertising out there," he said.
The Meyerson Symphony Center in Dallas, also designed by Artec, did live up to the hype, Cantrell said, but more than 20 years after its opening, the acoustics alone aren't much of a draw for the general public.
"I'm always sad when I go to the Meyerson and see empty seats," he said. "The sound—you cannot get it from the best surround sound at home."•
Please enable JavaScript to view this content.