The $525 million sale of Aprimo Inc. may be the most ever fetched for one of the city's growing ranks of information technology firms, but it likely won't be the last deal around the bend.
Observers say conditions are ripening for more deals in the months ahead—not only among IT firms, but also among biotech companies here.
They point to the rising costs and complexity of innovation, a dearth of capital available for smaller firms to grow, and record piles of cash would-be buyers squirreled away during the recession.
"I believe this is the first of frankly a new wave" in the next few years, Don Aquilano, managing director of the Indianapolis office of Blue Chip Venture Co., said last month when the deal was announced. Blue Chip was among the investors in Aprimo.
It will be hard to top December, however, where in the span of just a week, out-of-state acquirers bought two of the region's most promising tech firms.
Dayton-based data warehousing giant Teradata Corp. snapped up Aprimo for its big presence in Web-based marketing management software. A week later, Switzerland's Roche said it was buying, for an undisclosed price, the promising diabetes and obesity drug firm Marcadia Biotech. The Carmel firm was co-founded by former top Eli Lilly and Co. scientists Richard DiMarchi and Gus Watanabe.
The Marcadia deal surely didn't set any records in the biotech realm. The reigning champion is Guidant Corp., which was sold six years ago to Boston Scientific for $27 billion.
But in the so-called measured marketing niche that increasingly defines the city's IT sector, Aprimo's investors made out big. With annual revenue of $80 million, it would have taken years to recoup what Teradata is paying in one swoop.
Hill
"The multiple they got was just spectacular," said Mark Hill, a local tech entrepreneur who, with wife Karen, sold the banking software firm Baker Hill to Experian, five years ago.
Hill noted that many large acquirers face challenges in innovating new products and are hesitant to risk capital while fixated on quarterly earnings expectations.
Godfrey
Aprimo co-founder Bill Godfrey all but pioneered elements of the integrated marketing management software realm now estimated to be a $5-billion-plus market.
"Once he proved it out, someone was willing to pay handsomely," Hill added.
A similar thing is happening in the biotech sector. Big drug companies such as Eli Lilly and Co. simply can't bear the costs alone of throwing money into promising new discoveries in ever-more-complicated disease categories. Shareholders demand a return. So Lilly, like many of its competitors, has in recent years been on the prowl to acquire technology from smaller firms that bear the risk. Among a mind-numbing number of deals Lilly has made is last month's purchase of Philadelphia-based Avid Radiopharmaceuticals for $300 million, to get its Alzheimer's diagnosis technology.
Lilly, ironically, had partnered with Marcadia Biotech. Ultimately, Roche came through with an offer the 12-person firm and its backers couldn't refuse.
But to the extent more partnerships are struck between big companies and small ones, the potential for more acquisitions grows. Even after making a promising discovery, the time and money to get that drug through the federal regulatory process are growing.
"What you do know is that it is going to take a lot of money and a lot of false starts," said David Johnson, president of the Indiana life sciences initiative BioCrossroads.
On the flip side, many of the smaller firms that big companies turn to can do only so much before needing the capital an acquirer can provide. Private equity sources have become more risk-averse and therefore less likely to fund small ventures.
Foster
"A lot of the smaller firms have had less access to capital than they did five years ago," said Mark Foster, chief investment officer at Kirr Marbach & Co. in Columbus, Ind. So if someone comes along with an offer to buy the company, "they may be inclined to take it."
Investors frequently don't see good opportunities to cash out their investment through an initial public stock offering as they did during better times.
"The end of the road for many companies increasingly will be mergers/acquisitions rather than the IPO," Johnson said.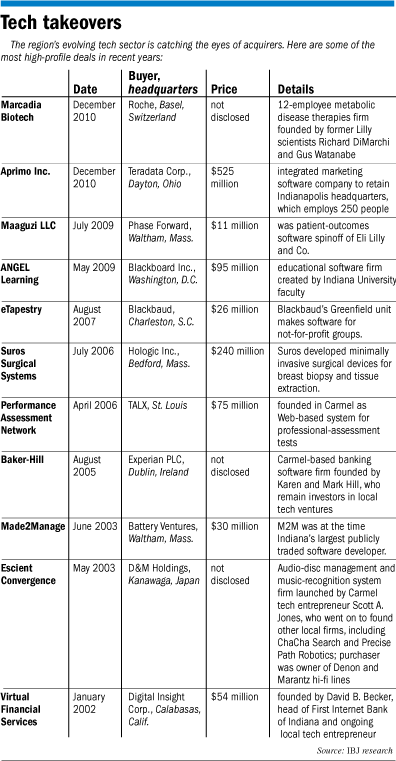 Cash to shop
One reason is that buyers have lots of cash these days. According to Federal Reserve data, the amount of cash nonfinancial companies accumulated last year grew to upwards of $1.8 trillion, rising at a clip not seen since 1952.
Also potentially driving some mergers is the need to sell before tougher capital gains rules are expected to kick in around 2013, Foster said.
The value of tech deals in the nation soared in the third quarter of 2010 to $27.5 billion from $11.4 billion in the second quarter, according to PricewaterhouseCoopers.
"I would guess you'll see it accelerate even more," Foster added.
Some area tech firms will be on the buying end.
The city's other large measured marketing firm, ExactTarget, in the third quarter bought an Australian firm, mPath Global, to expand its geographic presence and its product offerings. It also recently bought SanFrancisco-based CoTweet, a Twitter platform, to gain inroads into social media marketing channels.
The city's only publicly traded tech firm—Interactive Intelligence—has also been acquiring. Last October, it bought Latitude Software of Jacksonville, Fla., which produces debt-collection software, for $14 million. A year earlier, it bought AcroSoft, of Columbia, S.C., which makes software used by insurance companies.
Interactive Intelligence, which makes software used by contact centers and for business process administration, bought the companies with cash and had $80 million available for such purposes last fall. In Interactive's case, the acquisitions were to supplement its existing product platform and to help it increase distribution, said Bill Gildea, vice president of business development.
"It's not really a buy vs. build position," he added. "Insurance is a key vertical for us."
Acquisitions fuel startups
When local firms are the acquirers, few blink an eye, but when out-of-state buyers pick off a promising local company like Aprimo, the initial reaction is often negative. Many of the region's largest companies—from banks to manufacturers—have been gobbled up by out-of-state firms and become mere outposts.
The negative sentiment is so prevalent that Hill, who is also chairman of technology initiative TechPoint, felt compelled to counter it. He put out a statement after the Aprimo deal was announced, explaining why he thinks such deals are good for Indiana.
Hill contends the region needs these deals because they help fuel growing companies with cash and talent. Some Aprimo employees had stock options and some of that money will wind up being used to fund new startups. He also pointed to how previous acquisitions begat new companies—like Aprimo.
Hill noted that Aprimo principals Bill Godfrey and Rob McLaughlin used to work at Software Artistry, which was bought by IBM. So did local tech entrepreneur Donald Brown, who went on to found Interactive Intelligence.
"It's not like we lose all that talent and people run away," Hill said.•
Please enable JavaScript to view this content.