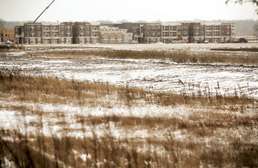 A J.C. Hart apartment community opened last year. It is the only portion of the $100 million Legacy project that has been built. The lead bank is trying to unload the note for around $15 million, less than half what lenders have sunk into the project. (IBJ Photo/ Perry Reichanadter)
The lead bank on the massive Legacy development along 146th Street in Carmel has put the note up for sale with an asking price of about $15 million—less than half what lenders have sunk into the project.

Bank of America enlisted the local office of Chicago-based Jones Lang LaSalle to recruit potential buyers to either shepherd the property through a pending foreclosure action or start making payments on the existing note.

Locally based Platinum Properties, the project developer, still hopes to work out a deal with the bank so it can continue developing Legacy, said Paul F. Rioux, the company's president. Platinum broke ground on the $100 million project in 2007.

Legacy already is home to an upscale apartment community developed by Carmel-based J.C. Hart Co., but other parcels eyed for single-family homes, retail and office space have not sold—in part because developers still are struggling to find financing for anything speculative.

Another reason: Bank of America declined to front the cash to finish a road that could have opened more sections of Legacy, Rioux said.

"It's an environment where it's hard to figure out what banks want," he said. "[Bank of America] figures a deal is still viable but needs to be reset at some level."

The bank's whisper asking price for the note—backed by Legacy's remaining 387 acres southwest of 146th Street and River Road—is between $13 million and $15 million.

The first mortgage, which Bank of America holds, has a face value of about $20 million, industry sources said. The project also had $10 million of mezzanine debt. About $6 million worth of roads and other infrastructure improvements are in the ground.
Estridge
The most likely buyer of Legacy will be a national homebuilder, perhaps Michigan-based PulteGroup Inc. or Georgia-based Beazer Homes USA Inc., said local homebuilder Paul Estridge, who is not involved in the project.

The publicly traded homebuilders are flush with cash to snap up cheap lots because they aggressively marked down their own inventories and set off losses against prior earnings, leading to big refund checks from the IRS.

"It's going to take someone with big dollars," Estridge said. "The big builders have trunks of cash and are going to use it now to buy up land."

The builders are snagging lots in Florida, Arizona and Nevada for a small fraction of loan values, he said. A $77 million note in Florida sold for $7 million.

Even though the values haven't fallen nearly as far in central Indiana, Bank of America's asking price for the Legacy note is probably double what it is worth based on similar sales, Estridge said.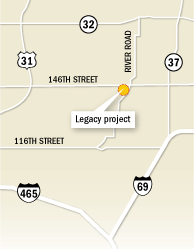 The most telling comparable sale here: Pulte acquired the roughly $14 million note to the Viking Meadows development in Westfield for the "ridiculously low price" of $4 million, Estridge said. The lender on Viking Meadows was Harris Bank, and the developer was Precedent.

Rioux is not so sure a national builder is the best option, since only about 35 percent of the projected revenue from the development falls in the residential category.

"It's not a 20-lot subdivision—it's 400 acres of mixed use with a lot of intricacies," he said.

But it's hard to be surprised about anything in today's real estate market, Rioux acknowledged. For starters: the apparent disregard by banks of the old real estate axiom that activity breeds activity.

Platinum pleaded with Bank of America in June to put forward a couple of million dollars to finish a road into Legacy that now ends with a dead-end roundabout. Finishing it could have led to a sale of two large parcels to homebuilders and kept the project moving, bringing in more than double the additional infrastructure investment.

"It takes three times more energy to restart something than it is to keep it going," Rioux said. "We're working on it every day to try to keep the project viable."

Real estate lenders that were too optimistic at the real estate market's peak are overly cautious today as they work through soured loans, Rioux said.

"What we're headed for is a lot shortage," he predicted. "People laugh because they think real estate is down forever. You've got a case where builders are gobbling up lots and no one's getting more dirt ready."

From the start, developers envisioned Legacy as a project that could take 10 or more years to complete.

The plans call for 40-percent open space and a mix of apartments, condos, retirement units, custom homes and cottages, and neighborhood commercial and retail outlets. The developer is entitled to build a total of more than 1,800 residential units.

The first phase, the J.C. Hart apartment community, opened last year. The $28 million, 287-unit project called Legacy Towns & Flats is about 60 percent occupied, said John C. Hart Jr., the company's president.

He said the real estate downturn and lack of credit have doomed Legacy's retail, office and single-family residential components, at least for now. Fortunately, Hart developed Legacy Towns & Flats as a stand-alone community with its own amenities, including a pool and fitness center.

Hart is not interested in acquiring the Legacy note from Bank of America, but would consider expanding his company's portion once the parties resolve ownership issues. He'd prefer to continue working with Platinum.

"I'm still very bullish about Legacy," Hart said. "I think it's a very unique site. The people who are moving in find it very appealing that it's 15 minutes from just about everywhere—from Hamilton Town Center, Clay Terrace, Castleton and Keystone Crossing."
Brainard
Carmel Mayor James Brainard is confident the city's "fundamentals," like good schools and low tax rates, will continue to make the area attractive for future investment.

The Legacy site in particular is well-positioned between Carmel, Noblesville and Fishers, he said.

"Unfortunately, some developers were heavily leveraged and their timing was bad, but that has been the nature of real estate investments from the beginning of time," said Brainard, a former real estate attorney. "The market goes up and it goes down."•