Two hours after the Dec. 7 announcement that Kevin Wilson was Indiana University's new football coach, school officials had his face plastered on billboards across Indianapolis, Evansville and Fort Wayne.
Full-page newspaper ads in those markets and in Bloomington and Louisville appeared the next day. In the days following, IU sent to thousands of program supporters a video e-mail featuring Wilson.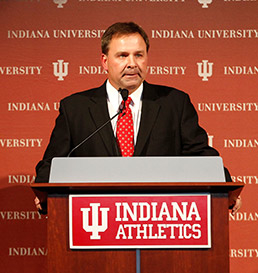 Wilson has been ubiquitous since landing the job. (Photo courtesy Indiana University)
Next up is a multi-pronged initiative to make the former University of Oklahoma offensive coordinator a household name statewide. Wilson will go on a speaking tour this summer just before a ticket sales campaign ramps up in August and September.
The blitz marks a major change for the university, which now has a football coach regarded as capable of anchoring a marketing campaign and boosting football revenue.
"Coach Wilson is a football coach almost out of central casting," said IU Athletics Director Fred Glass. "He's straightforward, tough and plain-spoken. We think he's going to be a great messenger for this program with a great message to spread."
A coach's ability to handle himself on camera can make the difference in whether he is hired, said Tom Hirschauer, president of the Publicis Indianapolis ad agency.
"In this media-driven era, why wouldn't you hire someone with better communication skills if all else is equal?" said Hirschauer, who has worked on ad campaigns for the Indiana Pacers and several other sports properties. "Of course, the ability to coach football is the key consideration. But these days, when hiring a position of this stature, the ability to communicate is also a very high priority."
Ready to capitalize
Glass has spent the better part of his two years as IU athletics director trying to bolster football ticket and sponsorship sales.
"We're about maxed out on the revenue we can bring in with the [men's] basketball program," Glass said. "But there's tremendous potential for our football program to bring in more money."
For decades, IU basketball brought in more than its football program. More recently, the tables have turned. During the school's 2008-2009 fiscal year, IU's football team brought in almost $22 million, $5.66 million more than the men's basketball team. But the football team's $12 million to $13 million annual budget far exceeds the $6.5 million to $7 million spent on basketball, making football's profit margin thinner.
Glass has noted that many of IU's football costs are fixed and any additional revenue would be pure profit. He also noted that schools like the University of Michigan and Ohio State University bring in more revenue during one home game than IU does for an entire season, leaving IU's athletics department at a serious competitive disadvantage across all sports.
While Glass said IU might not be able to reach the heights of the biggest Big Ten programs, he said, "We can do a lot better."
IU typically budgets just more than $500,000 annually to market its football program, and while that will get only a slight boost in 2011, the focus will be more on Wilson than it was on former coach Bill Lynch.
Lynch replaced Terry Hoeppner after Hoeppner's untimely death in 2007. Lynch went 19-30 in four seasons at IU, and it was never clear, sources close to the program said, that Glass felt he was the long-term solution as head football coach.
As a result, Glass took center stage in IU's marketing program shortly after replacing Rick Greenspan as athletics director in January 2009, appearing in TV, radio and other commercials as well as doing myriad media interviews.
With a seven-year, $8.4 million contract in hand, sports marketers now expect Wilson to be the face of the school's football program.
Wilson, 49, has already completed an extensive round of radio and TV interviews, and on Jan. 15 at IU's sold-out men's basketball game against Michigan, is scheduled to make his first mass audience speech since his introductory press conference. He also will be interviewed on the Big Ten Network during the game.
Some catching up to do
"Coach Wilson has the football pedigree, but in this market he's largely unknown," said David Morton, a local sports marketer who formerly worked for Texas-based Learfield Sports on the IU Properties account. "IU is smart to quickly introduce him to the market and establish his credibility, which will broaden his appeal."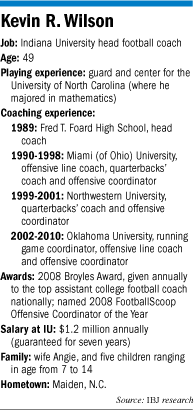 Wilson became the school's sixth football coach since 1996. IU has had more coaching changes during that period than any other Big Ten school. Wilson will take over a team that has only three Big Ten wins over the past three years and just ended a 12-game losing streak against conference foes and a 15-game losing skid against league opponents away from Bloomington.
Lynch might have had a spotty on-field record, Morton said, "but this state knew him as a football coach for 30 years."
"And everybody knew and loved Terry Hoeppner because he was such a unique personality and had such a unique story," Morton added.
Hoeppner was hired to revive IU's football program in 2004, and instituted the nickname "The Rock" for the school's football stadium and introduced the ceremonial pre-game players' walk into the stadium. Hoeppner died from complications of brain cancer.
"There's nobody out there who's going to replace Terry Hoeppner, but I think [Coach Wilson] is a good match for this program," said John Gliva, who goes by the handle JMV on his afternoon sports-talk radio show on WFNI-AM 1070. "He's no-nonsense, very energetic and never at a loss for words. He's got a good, strong personality. I think he's got the kind of personality they need."
Times have changed since Hoeppner was head coach, said Patrick Kraft, an assistant athletic director at IU who focuses on marketing.
"The athletics department has been restructured," Kraft said. "We have people here now specifically to handle all the marketing. Before, Coach Hoeppner felt he had to do it all on his own."
While Wilson will certainly have a higher profile in IU's marketing campaign than Lynch, Kraft said Wilson will share the spotlight with Glass.
"Fred Glass is always going to be a part of what we do," Kraft said. "He's an Indiana guy, and there's a real connection there between Fred and our supporters."
WFNI's Gliva thinks that's a smart move.
"As far as connecting with the fans, there's no other athletic director out there like Fred Glass," Gliva said. "He really is special."•
Please enable JavaScript to view this content.