Shares of central Indiana's only publicly traded technology firm, Interactive Intelligence, soared Jan. 11 after pre-announcing fourth-quarter earnings.

The maker of contact center software said it expects to report fourth-quarter revenue of $49 million to $51 million, compared with $35.9 million for the same quarter last year.

Profit is expected to be $4.5 million to $5.3 million, substantially higher than the $2.5 million earned in the fourth quarter of 2009.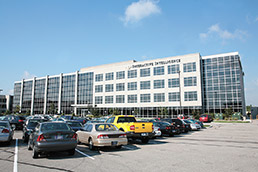 Shares of Interactive Intelligence went on a tear after the company said it expects to report sharply higher fourth-quarter sales. (IBJ File Photo)
The company noted that this year's results will include revenue of $1.4 million from Latitude Software, which it bought last October. Jacksonville-based Latitude makes debt-collection software. It also scored five orders over $1 million.

Interactive Intelligence founder and CEO Donald Brown said the outlook for 2011 is annual revenue of at least $200 million, or growth of 20 percent over 2010.

The Jan 10 announcement sent shares soaring more than 25 percent at one point, above $36 a share—a 52-week high.

It's been an eventful month for the city's IT sector. Besides Interactive Intelligence's stock bump, marketing software giant Aprimo announced it is being acquired by Dayton, Ohio-based Teradata Corp., for $525 million.

Interactive Intelligence plans to report final results Jan. 28.