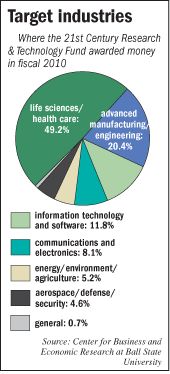 The state's principal fund investing in high-tech companies has reached a milestone—for the first time recouping all the money it granted an emerging company, and then some.

The 12-year-old Indiana 21st Century Research and Technology Fund received $2.6 million from Marcadia Biotech Inc., to which it previously granted $2 million.

Carmel-based Marcadia last month was bought by Swiss giant Roche, for an undisclosed price. Marcadia was co-founded five years ago by former Eli Lilly and Co. scientists Gus Watanabe and Richard DiMarchi. It develops drugs to treat diabetes and obesity.

It's a small return for the taxpayer-supported 21st Century Fund. But it validates a decision made about five years ago by the Indiana Economic Development Corp., which oversees the fund, to attach more strings to the money it grants to emerging tech companies.
Roob
"If we give you some of the 21 fund money, we expect you to grow the company here in Indiana. And if you hit the ball out of the ballpark … we expect to get a little back," Mitchell Roob Jr., CEO of the IEDC, said of the previous policy changes now bearing fruit.

The 21st Century Fund initially was geared to demonstrate that technology developed at the state's universities could be commercialized. Grants from the fund could help companies attract private capital as they grow and ultimately bring a payoff for investors, such as through an initial public stock offering or company sale or partnership.

Such payoffs could be used then to help cultivate new tech companies in Indiana. Roob said he hopes some of the money earned by Marcadia's principals will indeed beget additional innovation in Indiana. He also said other, "really terrific deals" may come later in the year.

Missing out on Endocyte

One deal that the 21st Century Fund won't earn a return on, unfortunately, is the pending, $86 million initial public stock offering plan by Endocyte Inc., which makes cancer-fighting drugs.

The life sciences firm, which operates out of the Purdue University Research Park and has an office in Indianapolis, received $4 million from the 21st Century Fund during the previous decade. But the awards were made just before the IEDC changed its terms to require recipients to reimburse the fund a portion of future success.

In fact, a former IEDC official, who asked not to be identified, said it was at a gathering of tech leaders on the northwest side some years ago when state economic development leaders realized just how valuable those 21st Century awards were to ensuring Endocyte's eventual survival and success. IEDC officials that afternoon rewrote the rules pertaining to grants, requiring a payback in the event a company reached that successful next stage, such as the Macadia scenario.

The idea was for the fund to, in effect, be a "benevolent venture capitalist" that could help sustain itself through the success of its recipients, besides serving as an economic development stimulator.

The 21st Century Fund since 1999 has invested more than $238 million in 188 projects, sparking $427 million in economic development and 11,000 jobs, according to research by the Ball State University Center for Business and Economic Research.

"This [$600,000 Marcadia profit] in some respects is gravy," Roob said.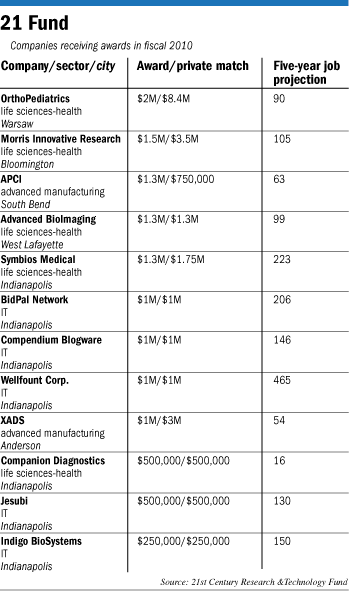 The state fund did previously receive a payback of sorts—an undisclosed amount from Indianapolis-based ImmuneWorks. It was triggered by ImmuneWorks' development agreement reached last year with Maryland-based United Therapeutics Corp. for treatment of idiopathic pulmonary fibrosis and primary graft dysfunction in patients receiving a lung transplant. That deal also granted United an option to acquire all of ImmuneWorks' stock.

Other sources

Meanwhile, the 21st Century Fund has launched a program to reach out to so-called angel investors to engage them in helping emerging and high-growth tech companies. The angel outreach program, which the fund is trying out first in northern Indiana, will give angel investors access to the fund's technical-review and business-vetting capabilities.

Central Indiana has a better-developed network of angel investors, including a group under the umbrella of StepStone Angels. The angel group was co-founded by Oscar Moralez, who is better known for founding Indianapolis-based Biostorage Technologies.

Moralez's group of wealthy individuals last year funded four companies, despite the economy.

"I think investors are coming back to the table, cautiously," he said.

Moralez is now trying to create a statewide network of angel investor chapters—he recently scheduled a meeting in Anderson, which still has a sizable group of ex-General Motors engineers. They've founded a number of upstarts in fields such as energy storage and advanced manufacturing.

By the end of the year, Moralez would like to have at least six chapters around the state, with each ideally composed of about 20 individuals willing to invest in promising companies.

It's unclear whether another key funding source for life sciences companies, BioCrossroads' Indiana Seed Fund, will soon be replenished with more cash.

The fund has invested in 11 firms, including Fast Diagnostics and SonarMed, both in Indianapolis—all of which are still humming. The seed fund is a modest $6 million in size, with a typical investment in the $250,000-to-$500,000 range.

"We're pretty well out of dry powder," said David Johnson, CEO of BioCrossroads. "We are certainly exploring the possibility of follow-on funding."•