The only bank branch location PNC Bank is selling in Marion County after its purchase of National City Bank has been purchased by C.H. Douglas & Gray Wealth Advisors.
The branch at 7040 N. College Ave. sold for $400,000 in a deal closed Jan. 13.
C.H. Douglas & Gray is expanding from 900 square feet of leased space at 9000 Keystone Crossing to the 2,400-square-foot bank branch, where it hopes to lease 400 square feet to another professional services firm. More than doubling its space will allow C.H. Douglas & Gray to add to its four advisers.
"We were sort of stepping all over each other" at the current location, said Chris Douglas, managing director of the firm.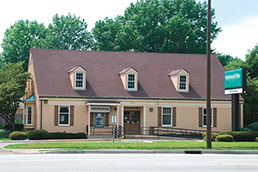 A local wealth adviser will move into this former National City branch by May. (Photo Courtesy C.H. Douglas & Gray Wealth Advisors)
A $200,000 renovation of the building, built in the 1980s, will start immediately. The firm expects to move in May. Douglas said the intent is to use high-quality finishes to give the new office the feel of homes in the nearby Arden and Williams Creek neighborhoods.
Colliers International broker Tom Osborne, who represented both PNC and Douglas' firm in the transaction, said National City Bank closed the branch in late 2009. He said it was a popular listing, even in a bad economy, and had been under contract three times before C.H. Douglas & Gray bought it.
 
Please enable JavaScript to view this content.