Eagle Creek Aviation Services' list of international clientele is growing. It recently landed work from the Colombian Army to refurbish two Twin Commander aircraft.

The planes were delivered to Indianapolis by two members of Colombia's Army, which uses them as military executive transport and for medical evacuations. Eagle Creek landed the business in part through its association with an aviation advisory company in Bogota, known as ASERPA.

Indianapolis-based Eagle Creek will give the planes an extensive overhaul and install new avionics, which will take 11 months to complete.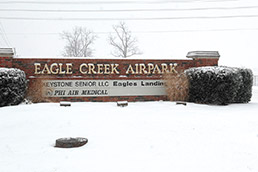 The Colombian Army is the latest international customer for Eagle Creek Aviation Services. (IBJ Photo/ Perry Reichanadter)
"When these aircraft are delivered, it will be difficult to tell that they are not brand new given the level of detail and refurbishment," said Matt Hagans, CEO of Indianapolis-based Eagle Creek.

Last year, Eagle Creek refurbished aircraft for the Mexican Navy.

The company, with operations here and in Naples, Fla., sells and repairs aircraft.

The manufacturer of the Colombian planes, Twin Commander, was originally known as Aero Commander, with production starting in the 1940s. The company went through numerous ownership changes, with manufacturing ending in the 1980s. Twin Commander operates a worldwide parts and service support business, with Eagle Creek among its key partners.