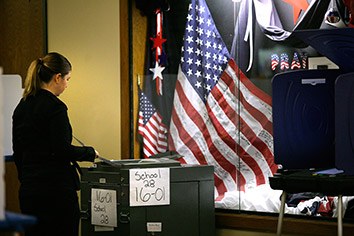 Indiana lawmakers are moving quickly to advance an election bill that would allow any Indiana county to create centralized vote centers to replace traditional neighborhood polling precincts.
House Speaker Brian Bosma, R-Indianapolis, said lawmakers are putting the bill on the fast track so that counties that want to can establish vote centers for the May municipal primary elections. The Senate has unanimously approved the proposal, which is now being considered by the House.
Tippecanoe, Cass and Wayne counties already have been using vote centers through a pilot project, and report savings because they don't have to staff as many polling sites. The pilot project expired at the end of 2010, so if lawmakers don't approve the bill those counties would have to go back to local precincts. County clerks say that would cost significant cash, as well as headaches for voters who liked the convenience of being able to vote anywhere in the county.
Cass County Clerk Beth Liming said voters like being able to stop at a fire department, senior center or even a shopping mall to cast a ballot at any of the county's seven vote centers.
"I've heard nothing but positives," Liming said. "It just makes so much sense."
Cass County saved more than $60,000 last year by switching to vote centers, Liming said. Tippecanoe County saved at least $50,000 in every election after switching from nearly 100 precincts to around 20 vote centers, said County Clerk Christa Coffey.
Some caution that voters without transportation might have problems reaching a voting site if they are spread too far apart. Republicans and Democrats also could spar over where to put the centers, noted House Minority Leader Patrick Bauer, D-South Bend.
"If you put the vote center in a solidly Republican area, well, it helps them," said Bauer, who said he supports the concept of vote centers. "Vice versa if we put it in a solidly Democratic district. There's got to be some balance."
The bill requires a unanimous vote from the county election board to move to a vote center system and to create details of the switch such as voting locations, which Bosma said could help keep partisan politics out of the discussion.
"The election process should be neutral," Bosma said. "One party should not run over the other."
Previous efforts to expand vote centers have gained traction in the Statehouse but ended up tangled up in more contentious election issues. Vote center advocates hope this is the year the bill will clear the General Assembly, and Bosma said other counties are waiting to see if this option is for them.
A 2010 report by the Indiana Fiscal Policy Institute shows all 92 counties could save money by using vote centers. Estimated savings vary depending on the size of the county and number of voters, but the analysis said counties that could benefit most are those with moderate size, growing populations and many registered voters per precinct.
Please enable JavaScript to view this content.