A vintage Superman costume worn by actor George Reeves in the 1950s superhero television series sold at an Indianapolis auction over the weekend for $5,250—a mere fraction of its estimated value.
The costume, said to be worth $120,000 to $150,000, was one of a few thousand Superman items that overall brought more than $70,000 at the Saturday sale.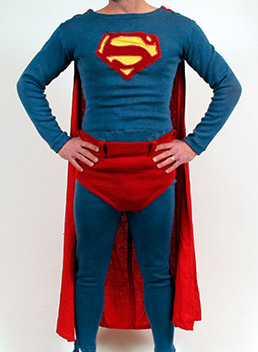 George Reeves' "Superman" costume is among items to be sold. (Photo courtesy Antique Helpers)
The mementos were owned by Fishers collector Dane Nash, who in March 2007 opened his American Super Heroes Museum in downtown Indianapolis. The museum closed just 10 months later after encountering legal and financial problems.
Items offered at auction were seized by court order and were offered without a reserve price, which likely led to more than a few bargains.
"Nothing sold for the kinds of values that were promoted by the museum," said Dan Ripley, owner of Antique Helper Auctions, the local auction house that conducted the sale.
Still, Ripley considered the auction a success, judging by the number of bidders and interest from overseas.
Roughly 200 bidders attended the sale, in addition to about 150 others who either registered to bid online or by phone. Some of those submitted bids from as far away as Australia, Switzerland, the United Kingdom and Canada, Ripley said.
"Any time we have that amount of active bidding, we have to assume that we did our job, meaning we exposed it to the market," he said.
The top-selling memento was a full-size Batmobile replica that fetched $12,000. A replica Batboat sold for $5,000.
Other big-ticket items included a costume worn by Dean Cain in the "Lois and Clark" TV series that brought $3,250, and another worn by the late Christopher Reeve in his "Superman" movies that reaped $3,000.
The auction lasted seven hours. Several smaller items were bundled together and sold in "lots."
The assortment was considered to be the second-largest collection of Superman-related memorabilia in the world.
For reasons unknown to him, Ripley said, the entire collection had been offered and then removed twice at auction, in 2009 and 2010.
 
Please enable JavaScript to view this content.