The Indianapolis Museum of Art has begun remodeling its third-floor galleries, a project that will create more space for the museum's growing design-arts collection.
The remodeling will affect galleries that hold Asian, African, design arts, and textiles and fashion arts collections. Temporary gallery closures began on Feb. 1, and the project will be completed by February 2012, the museum said in a press release.
"As an encyclopedic museum, it is important that we continue to show all areas of our permanent collection in fresh and innovative ways," CEO Maxwell Anderson said in a prepared statement.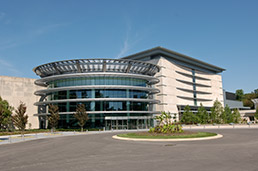 The Indianapolis Museum of Art plans to remodel its third-floor galleries, which hold Asian, African, textile and design-art collections. (IBJ File Photo)
The closure on Feb. 1 was in preparation for upcoming exhibitions. "Material World" opens April 22 in the Paul Textile and Fashion Arts Suite. "Dynasty and Divinity: Ife Art in Ancient Nigeria" opens July 8 in the third-floor space that will later hold the IMA's permanent African collection.
Here is a rundown of the changes:
• Asian galleries will be concentrated to one side of the third floor with improved layout and lighting. The new space will be as large as the current galleries. A portion of the Asian galleries will close to make way for "Dynasty and Divinity," which runs until Jan. 15, 2012. The entire, remodeled suite will open in the fall of 2012.
• The Eiteljorg Gallery of African Art will close in January 2012 and move into the renovated space that held "Dynasty and Divinity." The African collection will reopen in the spring of 2012 with many familiar objects, as well as a newly interpreted collection.
• The design-arts collection will open on the third floor in fall 2012 in the former African galleries.
Please enable JavaScript to view this content.