While battling the sorrow of death, Tammy Hanna began a new life.

After Hanna's father succumbed to cancer and her husband, Tony, lost his mother to the disease, the couple took $175,000 from their parents' life-insurance policies and used it to start a business they had been planning. Hanna's Wrecker Service opened in October 2008 with five trucks and 13 employees.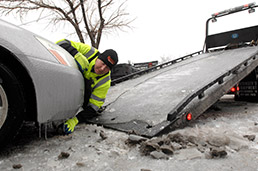 David Wensel of Hanna's Wrecker Service demonstrates what's involved in moving a car from one location to another. Hanna's deals with about 75 garages and nearly 50 apartment complexes. (IBJ Photo/ Perry Reichanadter)
A little more than two years later, the company has seven trucks—six for tows and one for vehicle repossessions—17 workers, and plans to move to a larger site that will allow for additional growth.

"I really wanted to take something negative from my experience and make it a positive thing," said Tammy Hanna, a former nurse at a private practice in St. Francis Hospital.

Tammy, 35, and Tony, 36, each had been involved in the tow industry before starting their own company. She grew up around the business because of her father, Ronnie Powers, a towing veteran who took her to conventions and other industry events. Tony was an operations manager for another tow company when they decided to quit their other jobs and make their own way.

"I told Tony, 'I just don't feel my purpose here,'" Tammy said of her work in nursing. "'I've gotta have a purpose in what I do.'"

She found that in an unlikely place, in large part through her company's involvement with Pink Ribbon Connection, an Indianapolis not-for-profit that helps breast cancer patients. From the beginning, Tammy wanted to find a partner that would allow Hanna's to support "a higher purpose." She chose PRC because of its mission and the personal ties her family has to the disease.

That support takes the form of weekly auctions of vehicles that have been donated to PRC. Hanna's picks up the vehicles and runs the auctions, giving the proceeds to the agency.

"She's a godsend to us," Executive Director Dori Sparks-Unsworth said of Tammy Hanna. "She just came to us as a gift."

Hanna's also helps raise awareness of the organization as its tow trucks—painted pink and adorned with the PRC logo—traverse the nearly 50 counties where both organizations operate. Coverage stretches across the state from east to west, as far north as Benton County and as far south as Jackson County.

"We get calls from our office and people say, 'I just saw your number and logo on a tow truck?'" Sparks-Unsworth said. "They call us because they're curious; they're interested. The exposure is enormously beneficial."

The wrecker service is doing well, too, reporting $1.9 million in revenue during 2010, a $600,000 increase from the previous year. Hanna has high hopes for 2011, planning to buy additional vehicles and hire as many as eight more employees.

Hanna's keeps busy by striking tow deals with about 75 garages and nearly 50 apartment complexes. The garages act as intermediaries, contacting Hanna's to dispatch a truck when they get calls from customers. Apartment complexes turn to Hanna's to tow vehicles that don't have the proper permits. The company also offers repossession and mechanic's lien services to garages and other clients.

In the winter months, Hanna's averages about 30 tows and $1,500 in revenue per day from its tow services alone, depending on what service is provided.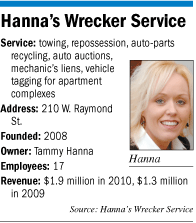 Customers, including Karl Raines of Ray-Skillman Northeast Buick GMC, say they're satisfied. Raines said he knows when he gets a call for a tow, he can trust Hanna's to provide exceptional service.

Hanna's personnel, cleanliness and pricing put it at the top of his list.

"If there were somebody better, I'd be using them," said Raines, who has worked in the auto-service industry 23 years.

Indeed, Hanna's prides itself on the cleanliness of its operation. Tammy Hanna inspects her trucks randomly to make sure they are well-kept and sets guidelines for her workers' attire.

"Not every tow company has that touch," she said. "I brag about it."

This year, Hanna's also is aiming to be one of the towing companies included in the police rotation for accidents and emergency tows handled by the city. The pending move to a nine-acre property at 3501 W. Kelly St.— which includes a scale for weighing scrap and recyclables—would give the firm room to grow.

"We're holding our business back by staying at this small location," Hanna said of the existing lot, which is half the size. "We've been pushed to crush vehicles because we didn't have space."

City planners were scheduled to decide on a zoning variance Feb. 1, but the hearing was postponed due to weather. If the move goes through, Hanna expects annual revenue to increase $2.4 million.

Hanna said a meeting with her potential new neighbors went well, particularly after she mentioned the company's charitable connection.

"I spent 45 minutes talking to two ladies afterwards about their battle with cancer and then losing a mother to cancer," she said. "It was a very good experience."

Hanna certainly can sympathize. After losing her father in 2008, her mother was diagnosed with breast cancer. The family found out a week before Mother's Day 2009, and Hanna said the prognosis is poor.

"She's just basically taking morphine around the clock, and things are not going so good," she said. "We're not sure how long we're going to have her.

"Every day is a blessing with her right now."

Despite the struggles Hanna faces, her company has continued to be one of PRC's primary supporters. Sparks-Unsworth called the work Hanna does "inspired."

"I think that if more companies looked at things … the way Hanna's does, all the nonprofits would benefit from it," Sparks-Unsworth said. "I wish more businesses would think in that vein."

Hanna certainly is committed to the cause. In addition to the paint job on her trucks, she is showing that support by planning additional service projects for the coming year.

"With the situation that we had to go through, something good came from something bad," Hanna said.•