A decline in investors' confidence in the Wall Street municipal bond market could have reverberations in Indianapolis.
Interest rates on municipal bonds have ticked up in the last two months to pre-recession levels as investors have pulled their money from bond funds in droves.
Consultant Ed Abel says it's now harder to line up guarantees on debt.
The cost for triple-A-rated issuers such as Indianapolis to borrow for 30 years climbed almost a third, to 5.09 percent at its peak in mid-January, from 3.85 percent on Nov. 1, according to Bloomberg.
That pattern has begun, gradually, to reverse. However, depending on the pace of the turnaround, the higher rates could add to the cost of issuing debt for pending city projects such as the proposed $155 million North of South mixed-use development.
"Our rates have gone up considerably just because of questions in the marketplace that, for 90-some percent of the country, are unfounded," said Randy Ruhl, executive vice president at City Securities, an Indianapolis investment firm that underwrites municipal bonds.
The price increase stems partly from a glut in supply. Late last year, municipal borrowers—which include cities and states as well as hospitals, universities and other not-for-profits—raced to take advantage of federally subsidized municipal bonds that were set to expire Dec. 31.
But it also reflected investors' heightened fears over potential defaults—concerns fueled by ominous predictions from closely followed analyst Meredith Whitney and other financial gurus. The doomsayers say hard times for local governments will wreak havoc on a market that's been a safe haven for investors. Other experts call such fears overblown, particularly in places such as Indiana, which boasts a solid credit rating.
Looming in the background is another concern. Nationwide, billions in guarantees on a certain kind of municipal debt are due to expire this year, leaving borrowers such as the Indiana Finance Authority and Indiana University Health seeking renewals amid a deluge in demand.
So far, it doesn't appear that securing the guarantees will be a big obstacle for large borrowers, though doing so may require more money and legwork than in the past, said Ed Abel, director-in-charge of health care services at local CPA firm Blue & Co.
"2011 is supposed to be a much higher year than normal," he said. "We're probably going to see a little bit of stress and strain as people get them renewed."
The perception problem
Nervous investors eventually may flock toward bond issues from the highest-rated issuers, such as Indianapolis. But for now, investor anxiety extends across the entire market.
"Our credits are strong across the board, [but] investors' thoughts are on the market in general," said Deron Kintner, executive director of the Indianapolis Bond Bank, which issues debt for the city and municipal entities such as the Indianapolis Airport Authority. "If we're guilty by association, we'll have to pay higher interest rates."
Some observers say a bill being discussed in the Indiana General Assembly is adding to the unease. The measure would allow financially distressed local government units to seek help from the state and, if necessary, file for bankruptcy.
Sen. Ed Charbonneau, a Valparaiso Republican, said he didn't have any financially strapped Indiana cities in mind when he proposed the bill. Rather, he wanted to make sure cities had the option of seeking bankruptcy—as they do in 27 other states—in case they need it.
Nonetheless, some say the measure inadvertently has raised the possibility of default in Indiana.
The turmoil is not expected to jeopardize any city projects, but could raise debt costs.
In North of South, an upscale hotel and apartment development proposed near the Eli Lilly campus, project revenues are expected to be ample to cover the city-guaranteed $86 million loan, even with higher issuance costs, Kintner said.
But the coverage ratio on the bonds would be lower—about 1.3 instead of roughly 1.4.
If interest rates were to continue to increase, the city would have to look at making changes to the deal so the coverage ratio did not slip below 1.25, though Kintner said that scenario is unlikely. The City-County Council is expected to vote on the deal Feb. 7.
The city also plans to refinance $45 million in debt in a downtown development district.
Current higher interest rates could mean a difference of $6 million in the city's savings from the refinancing compared with a few months ago—money that would be pumped back into the downtown district to be used on infrastructure and other projects.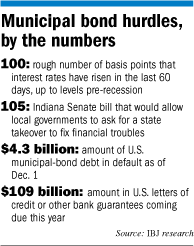 Higher guarantee costs
Problems in the municipal bond market have hit at a bad time for issues of a form of variable-rate debt that's further secured by letters of credit or other guarantees by banks.
Many of those guarantees were issued during a refinancing wave in 2008, and many letters—an estimated $109 billion worth—are up for renewal this year.
In Indiana, that includes guarantees for $600 million in debt on Lucas Oil Stadium issued by the Indiana Finance Authority and $650 million issued by IU Health (formerly Clarian) for capital projects.
Some market observers are concerned whether banks will be willing to renew all those letters, and at what cost. That's partly because of the glut of renewals and partly because even strong banks are facing heightened regulatory scrutiny.
"Folks are worried that if everyone did a three-year agreement in 2008, everyone is going to be out there looking for liquidity at the same time," said Kendra York, the state's public finance director. "Nobody really knows how much capacity is out there."
For the state, however, York said the process is going fine. She said Indiana already has renewed about half its letters at a lower rate and is in discussions with banks about the remainder.
Ryan Kitchell, IU Health's vice president and treasurer, said the hospital network is looking to either renew its letters or convert the variable-rate debt to fixed rate "depending on market conditions."
He said via e-mail the hospital system had received strong proposals from banks but wouldn't discuss specifics.
But single-campus and community hospitals and not-for-profits—in particular, those that rely on the letters for credit, as well as liquidity—could face greater risk of higher costs or difficulty with renewal.
Jerimi Ullom, head of the health care finance practice group at the local law firm Hall Render Killian Heath & Lyman, said he's heard from hospital clients around the state who fear they'll be hurt.
Ullom estimates those able to renew letters of credits from banks will see costs double or, in some cases, triple.
"We expect many of our clients to have difficulty renewing them," Ullom said. "And—to the extent they're able to renew them—we expect many of them to be renewed on less favorable terms."•
Please enable JavaScript to view this content.