When the name was announced for the restaurant that would replace Taste of Tango downtown, the first thing that came to mind was an Abbott and Costello variant:

"So, where do you want to go to lunch?"

"Hue."

"No, I picked last time. Where do you want to go?"

"Hue."

"Seriously, I'd rather you pick."

The new eatery, Hue Dine (36 E. Washington St., 634-4834) may not fall trippingly from the tongue. But a recent lunch visit made clear that this is a newcomer that Hue—I mean, you—should definitely check out.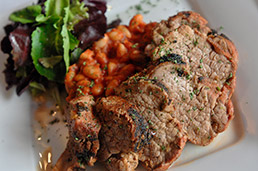 New Orleans Pork Loin tops a hearty navy bean ragout. (IBJ Photo/ Perry Reichanadter)
Our party stopped in during Devour Downtown, which offered a triple-course sample of many of the offerings (I'm including the standard menu prices for entrees here, however). For starters, all were impressed at the creativity and, more important, the taste of the salads. The Organic Mixed Greens offering accented the greens, cherry tomatoes and cucumbers with sweet poached red onions. A Spinach Salad included alfalfa, eggs, bean sprouts and a warm bacon vinaigrette. As newspaper people, our only complaint was the number of typos on the menu.

In the entree department, slices of Cajun-rubbed, slow-grilled pork topped a hearty navy bean ragout in the New Orleans Pork Loin ($13). The Loft 360 Bison Burger ($10) was juicier then most others of its ilk and came packed—but not smothered—in grilled onions and artichokes. Sided with steak fries cooked in duck fat (nice), it's a keeper. Pan-Seared Halibut ($13) was evenly seared and looked great, but felt a bit skimpy for its price point. The Southwest Turkey Melt ($7), though, proved a deliciously toasted bargain, packed as it was with applewood bacon, avocado and chipotle aioli (and a side of perfectly crisp sweet-potato fries).

We don't normally indulge in desserts at lunch, but given that this was part of Devour and included in the $15 price, we caved—and are glad we did. The Cranberry-Pomegranate Mousse lightly lured us into a sweet place where the two title ingredients whipped up nicely with a light dusting of sugar. The Chocolate Mint Silk, with chocolate shavings piled on top of moussy/minted goodness, was even better. A sampler of sorbets with hearty chunks of fruit was the perfect finale, leading me to believe Hue could become a good post-symphony stop, even if only for a drink and dessert.

In all—and at the risk of sounding like an empowerment poster from the '80s—I'm glad there's a Hue.•

__________

Second in our month-long series of reviews of new restaurants downtown.