Duke Realty Corp. is undertaking a strategy to shed a slew of office space within its portfolio of properties in favor of industrial investments.

A short-term plan undertaken in recent months by the Indianapolis-based real estate investment trust outlines a goal to reposition its portfolio by increasing industrial assets from 38 percent today to 60 percent by 2013.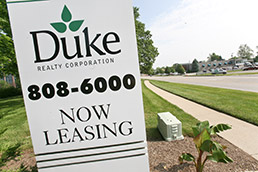 The Indianapolis-based real estate investment trust sees a glut of office space and believes industrial rates are firming. Midwestern properties are being deemphasized. (IBJ Photo/ Perry Reichanadter)
At the same time, Duke Realty would cut office holdings by half, to 25 percent, according to the plan.

The company wants to accomplish the conversion by using funds from the sale of office properties to purchase industrial complexes, mainly in the Southeast.

Driving the developer's shift is an office market that is expected to recover more slowly from the recession than the industrial market.

John Demaree, executive vice president and industrial broker at locally based Summit Realty Group, said a glut of office space caused by overbuilding has depressed rental rates.

"As a result, [Duke Realty has] more upside in terms of the returns, with modern bulk distribution," Demaree said. "The sector's going to come back more quickly than the office sector."

The national vacancy rate for both office and industrial continued to decline in the fourth quarter, though at 14.3 percent, the industrial vacancy rate is smaller than the 16.4-percent rate for office space, according to a CB Richard Ellis report.

The office market fared even worse last year, when the vacancy rate hit 17.4 percent in the second quarter, a high not seen since 1993.

Duke officials declined repeated interview requests.

But CEO Dennis Oklak hinted at the turmoil encumbering the office market in a conference call with analysts last month.

"In most of the markets, and particularly on the office side, those rents are rolling down," he said. "The industrial rates, I think, are starting to firm up a little bit."

Duke Realty officially unveiled its strategy in late 2009, but made its biggest splash so far in accomplishing the goal late last year.

It agreed in December to acquire Premier Commercial Realty's entire south Florida property portfolio for $450 million. The Premier properties include 56 buildings—mostly industrial—totaling more than 4.9 million square feet.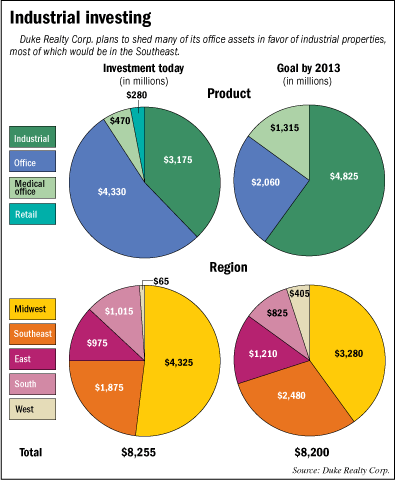 It also agreed to sell 20 suburban office buildings, located mostly in the Midwest and totaling nearly 3.1 million square feet, for $516.7 million to an existing joint venture with Los Angeles-based CB Richard Ellis.

"We clearly could have gone out and bought a lot more industrial [last] year," Oklak told the analysts. "We looked at a lot more than we actually bought, but we are very focused on the specific time and location of properties we want to own."

Upon the closing of the two transactions, Duke Realty's asset composition will be 42 percent industrial and 49 percent office. Medical office and retail space composes the remaining 9 percent.

Part of the repositioning calls for the company to increase medical office assets from 6 percent today to 15 percent in 2013, and to exit the retail sector altogether. Retail assets are currently only 3 percent of its portfolio.

Last month, Duke reported that it acquired three industrial assets adjacent to Port of Houston. The assets total more than 582,000 square feet and are leased.

Duke Realty's preference to build its industrial portfolio, particularly in the Southeast, would increase its assets in that part of the country from 23 percent today to 30 percent in 2013. Midwestern assets, meanwhile, would fall from 52 percent to 40 percent. Eastern holdings would increase from 12 percent to 15 percent, and in the West, from 1 percent to 5 percent. Assets in the South would dip slightly, from 12 percent to 10 percent.

Oklak estimated that the company needs to invest another $1 billion to $1.2 billion in industrial assets by selling existing office assets to meet its goal by 2013.

If activity so far is any indication, the objective seems well within reach.•