A lot of couples have a "go to" restaurant—a favorite they visit regularly (and often use to end stalemates over where to eat). You know how it goes: "Mexican?" "Nah. Italian?" "I had it for lunch." More times than not, my husband and I settle such disputes with "How about Sahm's?" And off we go.

We live a couple of miles from the original Fishers restaurant, and we've been to a couple of other locations, too. So Sahm's Tavern & Café has been in the back of my mind since it opened last year in the historic Gibson Building downtown. Then a lunchtime stalemate delivered me to its door.

Or doors, as it were. When we took advantage of the free parking lot and drove over for a late lunch, my companion and I immediately faced a decision: café or tavern? Turns out the menu is the same, but service is cafeteria style in the café. We opted for a full-service booth in the bar.

First up was an order of Shrimp Cigars ($7.99), eggroll-like concoctions filled with diced shrimp, veggies, cream cheese and herbs and fried crisp. Ours were downright crunchy and seemed a little skimpy on the shrimp, but we cleaned the plate.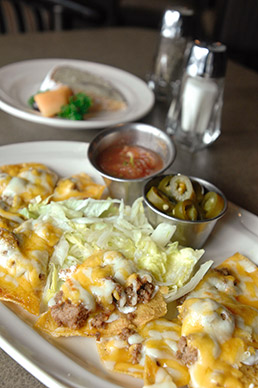 The nachos at Sahm's are tidier­ and tastier than the standard bar-food variety. (IBJ Photo/ Perry Reichanadter)
Although I love Mexican food, I'm not overly fond of nachos because they usually consist of a mass of tortilla chips with assorted toppings that create a big, soggy mess. Sahm's Nachos with Taco Meat ($7.49) is tidier—and tastier. About a dozen chips are spread out, topped individually with sour cream, shredded cheddar and mozzarella cheese and meat (if you choose), then broiled. The salsa and jalapenos come on the side. The result retains its crunch despite the cheesy, creamy, nacho-y goodness on top.

My companion—a Sahm's virgin rather than my usual tablemate—opted for the Meatloaf Melt ($7.49), which earned high marks for its thin slices of meatloaf layered with American and Muenster cheese between grilled slices of Sahm's homemade bread. It's a great way to satisfy a taste for beef without resorting to yet another burger. He sided it with Alaskan Clam Chowder, a murky but flavorful cup of warmth.

We intended to indulge in Sahm's signature Sour Cream Coffee Cake ($1.29) for dessert—maybe even a couple of slices, you know, to make sure it was as moist and delicious as I remembered. But we ran out of room.

Oh, well, I'm sure it won't be long until hubby and I are at a dining-out impasse again and we'll no doubt return to one Sahm's or another.•

—Andrea Muirragui Davis

__________

Third in our month-long series of reviews of new restaurants downtown.