Indianapolis public broadcaster WFYI is bracing for an era of budget cuts that could prompt consolidation among Indiana stations.
"There has been a lot of discussion about mergers, consolidation," said Lloyd Wright, CEO of WFYI-FM 90.1 and Channel 20. "We're having those conversations in Indiana as well."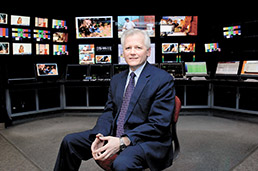 Lloyd Wright, WFYI CEO(IBJ Photo/ Perry Reichanadter)
The U.S. House of Representatives voted this month to eliminate funding for the Corporation for Public Broadcasting, which distributes $450 million to local stations. The Senate is expected to take up the matter before March 4, when the current bill that keeps the federal government running will expire.
Wright and WFYI are knee-deep in the national battle to keep the subsidy, which covers 13 percent of the station's current $9.3 million budget. If the Senate also votes to eliminate funding, WFYI would have to look elsewhere for that money in fiscal 2012 and 2013.
WFYI supporters have received automated calls and e-mail, urging them to share their opinions—whatever they may be—with the Indiana delegation.
Even if public broadcasting survives this round, it will be the underdog in future budget debates, DePauw University communications professor Jeffrey McCall said.
"The budget hawks in Congress have always questioned whether the government should be funding them," he said. Now with a massive budget deficit and Republican control of the House, McCall said, "This is the most serious threat."
The 235-189 House vote followed party lines, but the Senate might not follow suit. Republican Sen. Richard Lugar is inclined to oppose cuts to the Corporation for Public Broadcasting, senior adviser Mark Helmke said. "He thinks we need to get serious and look at [cutting] the big-ticket items."
Indiana Sen. Dan Coats did not respond to an inquiry.
Indiana public broadcasters started talking consolidation well before the current budget crisis. WFYI's budget is $1 million less than in 2009, a result of sharp declines in corporate sponsorship and state funding, Wright noted. WFYI laid off 12 percent of its staff in January 2009, the first layoffs in its history.
Most of WFYI's programs include "Indiana" in their titles, part of the effort to share more content among eight radio and eight TV stations around the state, Wright said. The TV stations are also studying how much they could save by combining master-control operations, he said.
A member of the PBS board of directors, Wright is closely watching the outcome of a public-television merger in southern California. The key for Indiana would be to consolidate without losing the support of viewers and listeners in distinct markets, such as Fort Wayne or Evansville, he said.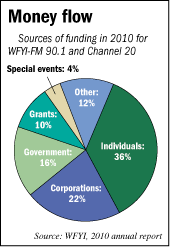 Wright believes stations should keep their local presence through people who create shows, or work in community initiatives. Raising Readers, a PBS multimedia literacy program that WFYI takes to Indianapolis day care centers, is one example of work that builds support for public broadcasting, he said.
McCall believes public broadcasting's image is being shaped more by National Public Radio. With the amount of corporate underwriting on NPR's programs, he said, "It doesn't seem that non-commercial anymore."
NPR's October firing of correspondent Juan Williams over comments he made about Muslims on Fox TV only bolstered conservatives' belief that NPR is pushing a liberal, politically correct agenda, McCall said.
"I think it's really important for NPR to be more careful about its public image," he said.
NPR and PBS aren't networks. Rather, they're separate not-for-profit organizations supported by their members—stations like WFYI, which pay for packages of programs, including "Sesame Street" from PBS and "Marketplace" on NPR.
If one small station shuts down because of lost government funding, those costs will be passed along to others, Wright said.
"It's inextricably connected," he said.
The rationale behind the subsidy for public broadcasting is that the Federal Communications Commission doesn't allow stations to run ads. Corporate underwriting messages may sound like ads, but they can't use comparisons or calls to action. That means jewelry stores can't talk about bigger diamonds, and car dealers can't tell viewers to hurry over during a sale.
The result is that WFYI's television operations receive about $700,000 a year in underwriting, a drop in the bucket of Indianapolis' $200 million TV advertising market, Wright said.
McCall, who supports the federal subsidy, thinks public broadcasting would find a way to make up for it.
But Wright, who was once told, "If you can't make it in the marketplace, you don't deserve to exist," is a staunch defender of the "public" in public broadcasting. Government support, whether through the CPB or some other mechanism, is what allows WFYI to air things such as Superintendent of Public Instruction Tony Bennett's "State of Education" speech, he said.
The role of public broadcasters is to help solve problems, Wright said. "Be a catalyst, be a convener, amplify the voice of the community."•
Please enable JavaScript to view this content.