WINNER: Community Achievement in Health Care
Center for Youth and Adults with Conditions of Childhood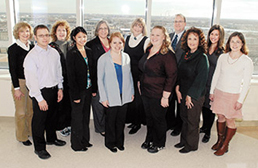 The staff of CYACC. Front row, left to right, Jason Woodward, Brittany Mak, Maggie McCullough, Tiffany Martinez, Christina Rogers and Katie Weber. Back row, left to right, Elise Montoya, Kerstin Sobus, Mary Ciccarelli, Jane Taylor-Holmes Steve Koch, and Erin Gladstone. (IBJ Photo/ Perry Reichanadter)
There's something to the age-old truism: One thing leads to another. Mary Ciccarelli, M.D., can attest to that. That's how she ended up founding the Center for Youth and Adults with Conditions of Childhood in 2006.
For Ciccarelli, assistant professor of clinical medicine and pediatrics at Indiana University School of Medicine, it all began with a grant-funded project to develop a curriculum in community pediatrics. As she met and collaborated with parents and leaders of community-based organizations, she discovered they were grappling with the issue of how to best transition kids with special needs into the adult arena.
"When I trained in medicine, the life expectancy for many of the patients I now see as adults was less than 15 years," said Ciccarelli, medical director for CYACC (pronounced kayak). "[Caring for them] wasn't part of the health-care system design 30 years ago."
There are a lot to care for. Every year, 5,000 to 6,000 Indiana youth with special health care needs "age out" of the pediatric system. According to a 2005-2006 national study, Indiana's percentage of children and youth ages 12 to 17 with special health care needs is higher than the national average—nearly 20 percent compared to 16.8 percent.
The list includes kids with chronic illnesses such as diabetes or cystic fibrosis; physical disabilities such as spina bifida, muscular dystrophy or cerebral palsy; or, intellectual disabilities such as autism or Down Syndrome. Each group is faced with its own issues and limitations, as is each individual child.
From discussions with parents of children with chronic disease at Riley Hospital, Ciccarelli found parents suffered from a perceived lack of adequate access to care once their children reached an age where they needed to transfer to adult care.
"We learned how frightening that transition is for youth and their parents," Ciccarelli said. "They have to leave the people in the pediatric program, who were nurturing and caring for them their entire childhood, to create new relationships with adult care providers. They have to leave the school where they've been nurtured to enter the employment world, where they may not find the same level of support and nurturing. So, there's lots of uncertainty and fright … from a health care perspective, a living perspective, a community inclusion perspective and an education or employment perspective."
Ciccarelli and others began collecting data statewide and applied for grant money to provide assistance. "We teasingly say we started our program by building it while we were flying it, because we didn't know exactly what we really needed to do," she said. "But we decided we'd just start trying some interventions and see what helped."
CYACC provides consultative services—medical, psychological, rehabilitative and vocational—and information and education about issues such as self-management, parenting, long-term planning, independent living, health care financing and community resources.
It serves Indiana children and developing adults with special needs, ages 11 to 22, and their families. It sees 150 new patients each year and sometimes provides services to families for several years. Every member of its staff has been touched in some way by a special needs child and understands the issues these kids and their families face.
"We're too small to fix the whole state's needs," Ciccarelli said. "So, we're working with others to advocate for system change that could make the problem better on a larger scale than we could do on our own." The organization provides education for residents-in-training and practitioners in the community and creates liaisons between adult and pediatric subspecialists.
The organization bills for the medical services it provides, but 80 percent of what it does is not billable. The Indiana State Department of Health, the IU School of Medicine and Wishard Health Services are the three primary funders of the program, which is also supplemented by grants and community assistance.
CYACC partners with Down Syndrome Indiana, accessABILITY Center for Independent Living, Riley Hospital for Children and About Special Kids, a parent-to-parent organization.
"CYACC addresses not only the medical needs of youth who are aging out of the pediatric care system, it provides youth who have disabilities with community and school resources," said Melissa Madill, executive director of accessABILITY Center for Independent Living Inc., a not-for-profit organization that promotes independent living for people with disabilities in Central Indiana. "By providing these resources, youth are able to access needed services and receive an adequate and inclusive education."
The CYACC staff has become the recognized experts on the topic and consults with professionals from other states who are trying to develop their own programs.
"Nationally, there are not many programs that address this growing need," said D. Wade Clapp, M.D., Chair of Riley Hospital's Department of Pediatrics. "CYACC is on the forefront of providing this much-needed service, and is becoming a model for other areas to follow."
Ciccarelli's hope is that CYACC can help this segment of the population stay healthy as they participate in the community.
"CYACC is making an enormous difference in the lives of the patients it serves, and will enable its patients to make better decisions that could potentially be life saving," Madill said.•
____
Click here to return to the Health Care Heroes landing page.
Please enable JavaScript to view this content.