FINALIST: Community Achievement in Health Care
Indianapolis Coalition for Patient Safety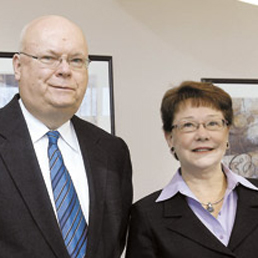 Dr. Glenn Bingle and Carol Birk from Indianapolis Coalition for Patient Safety. (IBJ Photo/ Perry Reichanadter)
Indianapolis has a reputation for being one of the most competitive marketplaces when it comes to health care. But that doesn't mean the city's health care leaders won't collaborate. In fact, an important collaboration began in 2003, when the chief medical officers from the city's six major healthcare systems got together to work on a safety education project.
"We realized that we probably could attack a bigger, broader and bolder mission," said Glenn Bingle, M.D., chairman of the board of the Indianapolis Coalition for Patient Safety.
In the early 2000s, a consensus report—"To Err Is Human: Building a Safer Health System"—was published by the Institute of Medicine, an independent non-profit organization that provides unbiased advice on health issues. The report pushed patient safety into the limelight. Much was being done at a national level to develop best practices regarding patient safety, and each individual health care system was making improvements at the local level. But that wasn't enough.
"About a third of patients go between our health care systems during an illness," Bingle said. "Not only do the patients go between systems, but the nurses, physicians, pharmacists and others often work in multiple systems. We realized that standardizing some of the basic, high-risk safety processes was very important to carrying out our mission and vision of having Indianapolis be the safest place to get health care."
The patient-safety coalition successfully standardized several processes among its membership. The processes include site marking for surgeries, color-coding of patient wristbands, protocols for preventing sepsis and tactics for improving the safety of administering high-risk medications such as insulin and anticoagulants.
"The Indianapolis Coalition for Patient Safety is a prime example of how collaboration is accelerating change…among very competitive organizations, and is a national model for community-based process improvement," said Don Berwick, newly appointed administrator of the Centers for Medicare and Medicaid Services.
The coalition is now tackling more complex issues, such as pneumonia readmission rates. And according to Carol Birk, the coalition's president, it recently launched a nine-hospital project to work on improving care for diabetes patients, not only in the hospital but after they've gone home.
Another group is focusing on safe surgeries. "The surgical site infection group has just started to work on areas of improvement in the operating room," Birk said.
It isn't just the scope of the projects that are growing. In 2007 the coalition, which is funded by annual membership dues and grants, expanded to include several suburban hospitals, educators, medical groups and health insurance companies. And it's garnered positive national attention. A recent study by the Rand Corp., a not-for-profit global think tank, compared the Indianapolis group to patient safety collaboratives in three other cities and declared Indianapolis to be the best model.
"What we are most proud of is that the members of the coalition have come together and worked collaboratively and non-competitively to improve patient safety," said Bingle.•
____
Click here to return to the Health Care Heroes landing page.
Please enable JavaScript to view this content.