WINNER: Advancements in Health Care
George W. Sledge Jr., MD
Ballve-Lantero Professor of Oncology, Professor of Medicine and Pathology, Indiana University Melvin and Bren Simon Cancer Center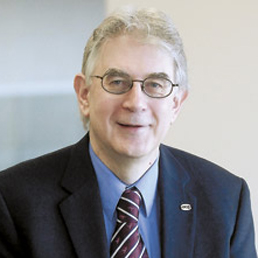 (IBJ Photo/ Perry Reichanadter)
If you ask George Sledge why he became an oncologist, he doesn't hesitate. He can tell you exactly when he knew that's what he wanted to do. While an intern at St. Louis University, he had to inform a young mother that she had leukemia. "I'll always remember what Carmelita asked me," Sledge said. "She asked, 'Who will take care of my children?'" That had a huge emotional impact on me."
After completing his residency, Sledge, 59, went on to complete an oncology fellowship at the University of Texas in San Antonio, studying for several years under nationally known breast cancer researcher Bill McGuire.
When Sledge came to IU in 1983, he was the only oncologist with expertise in the area of breast cancer, and it was under his leadership that IU opened its first breast clinic.
That's where he's made his mark in medical research, developing life enhancing treatments and cancer-care protocols that have improved the care and outcomes of breast cancer patients.
One area of research Sledge is involved with is biologic treatments for breast cancer, especially anti-angiogenic therapies, such as the drug Avastin. Anti-angiogenic therapies prevent the development of new blood vessels or stunt new blood vessel growth in cancer cells, consequently starving them. Sledge also conducted studies involving the drug Herceptin, used in conjunction with chemotherapy to help prolong the lives of patients with metastatic HER2+ breast cancer.
Perhaps Sledge's most far-reaching contribution to breast cancer research was with Taxol, a chemotherapy treatment. He led the first major trial in the use of Taxol as a treatment for breast cancer. The Phase III trial lasted from 1993 to 1997, with institutions nationwide participating. As a result, Taxol is now commonly used by many breast cancer patients. The findings from this trial also demonstrated that sequential use of chemotherapies, which is much less toxic and easier for patients to tolerate, was just as beneficial as using chemotherapies in tandem.
"Drugs like Avastin, Herceptin and Taxol are valuable to the extent that they prolong women's lives, first and foremost," Sledge said. "So my career as a breast cancer researcher has been designed in large part to try and develop new agents that will prolong women's lives, and hopefully, when applied to women with early-stage breast cancer, increase their cure rate."
As co-director of IU's Breast Cancer Program, Sledge leads a breast cancer research team of more than 30 members. The program has produced several patents and two startup companies and is involved in more than 70 clinical trials. Its annual research grant funding now exceeds $11 million, and it received a $20 million gift from the Vera Bradley Foundation for Breast Cancer Research.
"During the most recent review from the National Cancer Institute, the Breast Cancer research program at the IU Simon Cancer Center earned one of the National Cancer Institute's highest rankings," said Patrick Loehrer Sr., director of the IU Simon Cancer Center. "This doesn't just happen by chance. It is a result of the hard work of George and his many colleagues from numerous disciplines. Together, they continue to make a mark worldwide by improving the prognosis of breast cancer and increasing not only the duration of life, but also the quality of life for women with this disease."
Over the years Sledge has received several prestigious national awards, such as the 2010 William L. McGuire Memorial Lecture Award at the San Antonio Breast Cancer Symposium, the 2007 Rose Award from the Breast Cancer Research Foundation and the 2006 Brinker Award from the Komen Foundation.
Sledge has also provided leadership for numerous organizations, including the FDA's Oncology Drug Advisory Committee, Hoosier Oncology Group, the Eastern Cooperative Oncology Group's Breast Cancer Committee and the Department of Defense Oncology Drug Advisory Committee. He currently serves as president of the American Society of Clinical Oncology.
While awards and recognition are nice, Sledge considers his greatest achievement being able to help his patients, and the beast cancer program is the vehicle that allows him to do it.
"Like most doctors, what drives me when I get up in the morning and what keeps me going during a very long day is my ability to help my patients," Sledge said. "I hope to continue to help the women of central Indiana live better lives through the application of cutting-edge research so they will have a chance to be first in line for new therapies, new drugs and new developments that will prolong their lives and minimize or eliminate their suffering."
After all these years, he's still trying to ensure the "Carmelitas" under his care will live to raise their children.
"In the breast cancer research world, George Sledge is a rock star," Loehrer said. "But he goes about his work in a down-to-earth manner, whether he's talking with a patient, teaching younger scientists or doing an interview with the national media. To us at the IU Simon Cancer Center and to his patients, George is a true hero."•
____
Click here to return to the Health Care Heroes landing page.
Please enable JavaScript to view this content.