WINNER: Physician
Gregory P. Gramelspacher, MD
Professor of Medicine; Director, Palliative Care Program, Wishard Health Services; Director, Palliative Medicine Fellowship, Indiana University School of Medicine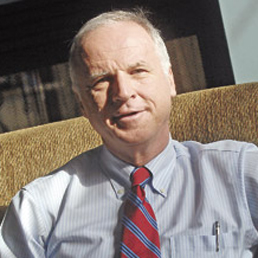 (IBJ Photo/ Perry Reichanadter)
Gregory Gramelspacher, M.D., intended to enter law school after graduating from Notre Dame. But a year in Bangladesh volunteering with the World Hunger Coalition changed his career path to medicine. The thousands of people he has helped as director of the Palliative Care Program for Wishard Health Services are very glad he did.
When Gramelspacher, 57, joined the faculty of the Indiana University School of Medicine in 1989, his responsibilities included developing an ethics program and serving as an ethics consultant. He was often called to the bedside of sick and dying patients when there was conflict among family members or between the family and the doctors concerning the best course of action for the patient. Unfortunately, by the time his services were requested, many of those patients had suffered for days.
"It was one of those consults, back in 1996, that was a signature event for me to change my career path in medicine," Gramelspacher said. "I saw the need to have doctors … help patients and families get to the end of their life in as dignified a way as possible, with as little suffering as possible, with as much support as possible. We needed to move upstream and provide palliative care consults."
That became his mission and passion. He applied for funding, lobbied and finally gained approval to start the program.
For the first seven years, it was a one-man show, with Gramelspacher on-call 24/7. "This was a brand new field," Gramelspacher said. "So I just started asking doctors if I could help them with their problem patients—the ones that came to the hospital frequently or who weren't able to grasp the severity of their illness or come to terms with the fact that their life was winding down."
That's how he met "Cowboy," a 73-year-old lung cancer patient, with emphysema and an attitude, who routinely disappeared from the hospital. Gramelspacher, or "Dr. G" as staff and patients affectionately call him, earned Cowboy's trust and learned that he lived under the underpass at 16th Street and Dr. Martin Luther King Street, in his "cave." He also revealed he had a dog named "Cowgirl." Cowboy's daily disappearing acts involved collecting food scraps to take to her. Despite attempts to get Cowboy housing, he always ended up back at the cave. Gramelspacher brought him a gas generator and a space heater, and when it turned bitterly cold, took him to a hotel. Cowboy was finally admitted to a nursing home, and when it came time, Gramelspacher arranged for Cowgirl to join him. She was in his arms when he passed peacefully.
This is just one story of many that illustrate Gramelspacher's compassion and concern for patients who are vulnerable, confused, scared and sometimes facing death alone. That's why he's a Health Care Hero.
"It's an extraordinary privilege to be able to come to work each day and make a difference for people who nobody really cares about," Gramelspacher said. "It all seems so natural, really."
It may come naturally to Gramelspacher, but many physicians are at a loss for words and actions when it comes to dealing with the inevitable.
"Palliative care is all about dealing with challenging emotions, going deep into the needs of patients and families to join them in their journeys, being present, honoring and healing them through whatever each day brings," said Reverend Karen Estle, spiritual advisor to the palliative care team. "Dr. Greg Gramelspacher is the teacher, the director, the guiding force in Wishard Hospital's nationally recognized palliative care team."
Today the palliative care program at Wishard has seen more than 4,000 patients. Under Gramelspacher's leadership, it has received prestigious awards, including the American Hospital Association's Circle of Life Award, and the National Association of Public Hospitals' Jim Wright Safety Net Award. On the program's 10th anniversary, Gramelspacher trekked from California to South Carolina on a bicycle. Dubbed the "Ride to Remember" he rode in remembrance of the people the program had served and to raise awareness of the dying poor.
"Our excellent palliative care program would not have become a reality without Greg's imagination, determination, powerful persuasive personality, and single-minded passionate devotion toward providing comprehensive and compassionate end of life care for the poorest in our community," said Meg Gaffney, M.D., chairwoman of the Wishard Ethics Committee.
Gramelspacher's efforts go beyond the program. He partnered with the Visiting Nurse Service to establish the Abbie Hunt Bryce Home, a home for terminal patients without financial resources, and he supports the Pro Bono Palliative Care Program, which provides Wishard patients with needed legal assistance. He also established the IU Palliative Medicine Fellowship at Indiana University and serves as its director. Currently three Fellows are training to become specialists in palliative care.
What's next for Gramelspacher?
"I'm very interested in building our program here at Wishard," he said, "but I want to metastasize it across campus and establish programs at Riley, University, Methodist and the VA. Then I want to find some Kenya champions to build capacity for palliative care in Kenya. If I can do anything to improve the situation for dying patients in that little piece of the world, I would be real happy."•
____
Click here to return to the Health Care Heroes landing page.
Please enable JavaScript to view this content.