FINALIST: Physician
Robert M. Pascuzzi, MD
Professor and Chairman, Department of Neurology, Indiana University School of Medicine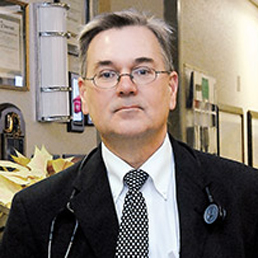 (IBJ Photo/ Perry Reichanadter)
A diagnosis of Amyotrophic Lateral Sclerosis, or Lou Gehrig's disease, is heartbreaking. While the mind remains alert, the muscles in the body begin to fail, and patients gradually lose the ability to walk, move, speak, and finally, breathe. Most patients survive only two to five years after being diagnosed. There's no known cause, no effective treatment and no cure.
Robert Pascuzzi, M.D., director of the Indiana University/ALSA Center for Excellence at Wishard Health Services, finds ALS both challenging and fascinating, but he never forgets how devastating the diagnosis is to those afflicted.
"At some point you realize much of it is about spending time with patients, trying to understand what's going on with them, and being available to give them straightforward, honest expertise," Pascuzzi said.
"We try to maintain their level of function so they can do what they want to do as best as possible, as safely as possible and for as long as possible. Some people think [working with ALS patients] is depressing or frustrating, but it's actually very rewarding."
Patients appreciate Pascuzzi's "glass is half-full attitude," and his compassion and concern when delivering the diagnosis. They also say he treats his patients like family and that he is a "straight-shooter," preparing them in advance for, as one patient said, "situations that could have been much worse had we not been anticipating their dreaded arrival."
Training neurology students and residents on the things that aren't in the textbooks is one of the most meaningful things Pascuzzi, 57, does. "In every setting, I teach," he said. "What do you do if a patient has something serious that you can't fix? How do you go about managing these patients over time and make it a positive, energizing experience and something that everyone benefits from?"
He's a seven-time recipient of the IU School of Medicine Golden Apple Award. He's also received the IU Board of Trustees Teaching Excellence Recognition Award and was named Distinguished Neurology Teacher of the Year by the American Neurological Association.
Pascuzzi came to IU Health in 1985. He chairs IU's Department of Neurology and is director of the IU MDA Neuromuscular Clinic. He was instrumental in establishing IU's ALS center 15 years ago. It is the first and only such program in the state to be designated as a "Center of Excellence" by the ALS Association.
To date, the center has been involved with more than 20 multi-center trials. Pascuzzi applauds patients who volunteer to participate. "They do it not so much because they're trying to help themselves," he said. "They're doing it for the next generation of folks who are going to be affected by the disease. They are truly heroic."
Pascuzzi has admirers of his own.
"Patients and their caregivers who come to see him during the course of their disease are under unimaginable strain," said Melissa A. Pershing, executive director for the Indiana chapter of the ALS Association. "Yet, Dr. Pascuzzi's obvious expertise, honesty, gentle humor and compassion—along with his ability to explain complex medical conditions in plain language and to make those who come to him feel both important and listened to—put them at ease."•
____
Click here to return to the Health Care Heroes landing page.
Please enable JavaScript to view this content.