FINALIST: Physician
Amy D. Shapiro, MD
Medical Director, Indiana Hemophilia & Thrombosis Center, Inc.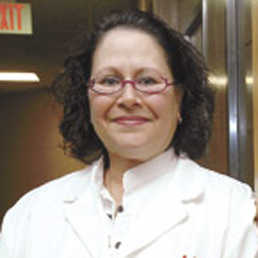 (IBJ Photo/ Perry Reichanadter)
Amy Shapiro, M.D., knows what it's like to be a kid in the medical system, and how illness can affect all aspects of family life. That's what inspired her, at the age of eight, to become a physician.
She found her niche in pediatric hematology, a field that allows her to form long-term relationships with patients.
Shapiro, 57, moved to Indiana in 1987 from Colorado to head Indiana University's hemophilia center, which in 1998 became the Indiana Hemophilia & Thrombosis Center, Inc., or IHTC, an independent, not-for-profit program. Hemophilia, a rare, hereditary blood disorder that restricts the blood's ability to clot, affects one in every 5,000 male births. The symptoms of hemophilia primarily affect men, but women who carry the disease can also be symptomatic.
One of the largest federally recognized hemophilia treatment centers in the U.S., IHTC operates clinics statewide and is currently involved in 40 clinical trials. It offers patients cutting-edge therapies and access to research protocols. But it wasn't able to impact the sub-standard health care of Indiana's Amish population until Shapiro made it a priority.
"I started working with members of their community to try to understand the cultural parameters that dictated some of the decisions they made…to try to come up with solutions that would address these health care disparities and still fit the bounds of what they considered to be acceptable," Shapiro said.
Shapiro's ability to foster long-term relationships based on trust won over Amish community leaders, and their hemophilia care improved greatly. In fact, the first patient in the world to be infused with genetically engineered Factor 9 concentrate for hemophilia B was an Amish patient—and it was Shapiro who administered the infusion.
"I think that's a testament to their openness to participate in projects and their access to state-of-the-art care now," she said. Her peers consider it a testament to her compassion and sincerity.
Shapiro, who was recognized with the Distinguished Hoosier Award by Gov. Mitch Daniels in 2009, has greatly expanded health care services to the Amish community. In 1998 she pioneered the first Amish-run Community Dental Clinic in Topeka, Ind., which makes preventative and acute dental care and education available to many people within the community, including the uninsured. She is now helping to organize a health care clinic to treat children with genetic disorders.
"She has helped raise more than $1.2 million for the cause so far, and has no plans of stopping until the state-of-the-art facility is complete," said Chris Roberson, IHTC's director of Compliance & Community Programs. "Dr. Amy Shapiro is the epitome of selfless and tireless dedication to worthy and noble causes."
Her work also reaches beyond Indiana's borders. She is partnering with the World Federation of Hemophilia, the IU School of Medicine and Moi University to develop a stable, long-term program in benign hematology in Eldoret, Kenya.
"I think there are opportunities wherever you are, with whoever you meet, to make your little corner of the world better," Shapiro said. "The patients whose lives you can affect give your work meaning. That's a real blessing."•
____
Click here to return to the Health Care Heroes landing page.
Please enable JavaScript to view this content.