WINNER: Non-Physician
Penny Handshaw
Director of Rehabilitation Services, Wishard Health Services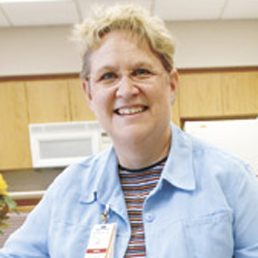 (IBJ Photo/ Perry Reichanadter)
As director of rehabilitation services at Wishard Health Services, Penny Handshaw is passionate about making a small difference in someone's life every day and committed to doing the right thing.
Professionally propelled by that focus, many of her colleagues, employees and professional peers agree that she embodies the mission of Wishard: advocate, care, teach and serve with an emphasis on the vulnerable populations of Marion County.
A 35-year veteran of the physical therapy profession, Handshaw has been at Wishard for 13 years, initially arriving to assist a physician who was starting a special program for seniors.
"As a physical therapist, I believe I was able to make that little bit of difference, and I've been able to continue to do that through all the people who surround me," she says. "It's not about big massive things but small things every day. If I have one gift, it's the ability to surround myself with very special people."
Of course, those she works with have a little different take on it.
"In addition to serving as a compassionate and dedicated physical therapist for more than 35 years, recruiting and retaining a talented team of therapists at Wishard with one of the lowest turnover rates in the entire Wishard system, teaching and training the next generation of physical and occupational therapists and brightening days through visits with Bonnie the Therapy Dog, Penny is a trusted and respected leader at Wishard," writes Nancy Foster, vice president of Human Resources of her colleague.
In addition, she has provided support to Second Helpings' efforts both from a donor standpoint as well as by establishing a successful rice and pasta drive among Wishard employees last year.
"What I love the most is how she weaves it all together," says Jim Fuller, vice president of clinical support services for Wishard. "She is consistently low key, never ruffled and completely patient focused. She is a role model in so many ways; people seek her out and look up to her."
While rehabilitation services typically cover physical, occupational and speech therapies, Handshaw has broadened her department's role at the hospital by championing her staff in innovative and unique ways that serve both patients and Wishard well. Under her leadership, physical therapists are now working side by side with physicians and nurses in the emergency department, Ortho Clinic, Burn Center and community health centers.
"Especially in the emergency room, our therapists can assist the physicians and nurses assess situations to determine admittance, etc. It allows our doctors to deal with truly life-threatening situations and allows the PT to focus on those with balance issues, sprains, etc.," Handshaw says. "It is helping move patients in and out of there a little faster. In an emergency room as busy as ours, every little bit helps!"
Perhaps her real "claim to fame" is being the person assigned to Bonnie, the canine assistance dog. With the financial support of St. Margaret's Hospital Guild, Wishard established the pet therapy program in its physical therapy department through the Indiana Canine Assistant Network. The organization trains and places service dogs with Hoosiers who have physical or developmental disabilities; the actual training is provided by inmates at Indiana correctional facilities. According to the hospital's legal and human resources departments, Bonnie's handler had to be a salaried employee of the hospital.
"Out of my 90-plus staff, I was the only one who was salaried … so I got to be Bonnie's handler," she recalls. With that distinction came a week spent at the Indiana Women's Prison with the women who trained Bonnie. "It was a pretty amazing experience and validated everything I believed about the program. For the offenders, training these dogs teaches patience, discipline and how to give and receive affection with positive feedback."
In the meantime, says Handshaw, Bonnie is one of Wishard's most famous employees. "Bonnie. It's kind of like 'Cher' or 'Madonna.' Everyone knows her," she laughs. "And, to my benefit, she has made me more known and interactive with both patients and staff."
Other initiatives for which Penny Handshaw has received recognition:
• Creating a Wishard Medical Supply Store that provides patients access to the durable medical equipment they need when they go home
• Integrating the physical therapy department into the Frequency, Intensity, Time and Type (F.I.T.T.) initiative, which helps patients and staff establish fitness programs. She also got her department involved in the Stop Taking On Pounds (S.T.O.P.) program. It promotes exercise and weight loss for pediatric patients
• Overseeing patient transportation services.
• An innovative initiative that remediated a long-standing problem of too-few wheelchairs
• Promoting patient-focused care with the "Good Cents Award" she gives to a staff member every month. "The important thing about these awards," she says, "is that I read to the entire staff what that person has accomplished and why I think that's important."
Of all her attributes, perhaps most telling is her commitment to the staff on which she depends. According to Fuller, "Every time I ask her to take on something else, I know it will be done and done successfully and nothing will suffer. That comes from growing her people into new roles and responsibilities—a sign of a really great mentor."
Predictably, Handshaw credits others for all that she's done. "My people are great. I stand on their shoulders."•
____
Click here to return to the Health Care Heroes landing page.
Please enable JavaScript to view this content.