FINALIST: Non-Physician
Jaimee Haan, PT, CWS
Team Leader, Physical Therapy Wound Management, Indiana University Health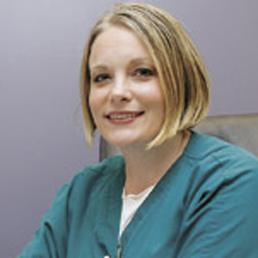 (IBJ Photo/ Perry Reichanadter)
There is no glamour in wound care. Treatments are difficult—often painful—for patients, and patients are vulnerable to recurrences.
"You have to love it," says Pauline Flesch, PT, MPS, and director of rehabilitation services at IU Health. "And while physical therapy training is a wonderful foundation, no amount of education you have will prepare you for the patients or the things you see in wound care."
Yet at an early point in her career, Jaimee Haan realized it was an area in which she wanted to concentrate her efforts as a physical therapist. Today she is the team leader for physical therapy wound management at IU Health.
Since 1999, her interest, concentration and dedication to wound therapy has positively impacted both the lives of patients as well the way in which IU Health approaches wound care.
"Her level of understanding and desire to have an in-depth knowledge of what the body goes through to heal is amazing," says Flesch. "This is a case in which being a perfectionist is a good thing."
Haan was an active athlete until a knee injury sidelined her for a season her sophomore year of high school. "I went through lots of physical therapy, and had an amazing therapist working with me. He suggested it might be something I should consider as a career," recounts Haan. She volunteered at a hospital throughout high school and channeled her energies toward grades instead of athletics.
According to Flesch, one of Haan's greatest accomplishments has been promoting a collaborative approach to wound care. "It was a 'Jaimee vision' to pull it together in a collegial, collaborative way. Others have recognized the value of that—not just her direct peers, but doctors, nurses and administrators as well," Flesch says. That collaborative model has been presented at national meetings and published in industry journals.
"Because she has this in-depth knowledge, she has taken new folks under her wing to teach, train, walk through difficult cases, and make sure they are comfortable with what they are doing," says Flesch.
Her knowledge and desire to improve patient care and outcomes led her to be among a cutting edge group of professionals who have embraced a new technology called MIST therapy. In layman's terms, according to Haan, it is a means of treating wounds that is much less painful with profoundly better results.
She has also led an innovative approach to treating patients once they are able to sit in a chair. "Overwhelmingly we heard we did a great job of treating and preventing wounds while they were in bed, but we had a gap in care in terms of keeping them safe while they are sitting," says Haan. "We put together a task force and created a seating guidelines chart that provides a tool for the bedside nurse." That chart has the potential of becoming a nationally recognized standard of care as those guidelines are currently being circulated to test their validity.
"What may be the most impressive is that her coworkers consider her a true servant leader for her team and the patients. She is admired and adored for her infectious laughter, positive perspective and supportive helpful nature," wrote Flesch in nominating Haan for the Health Care Hero award. "No one works harder or is more dedicated than Jaimee."•
____
Click here to return to the Health Care Heroes landing page.
Please enable JavaScript to view this content.