FINALIST: Non-Physician
Michele Kuntz Wood, RN
Manager of Women's Health Services, Franciscan St. Francis Health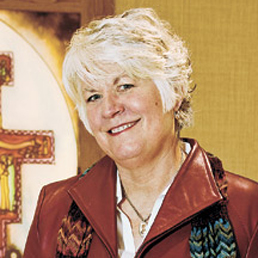 (IBJ Photo/ Eric Learned)
Robert Brody, president and CEO of Franciscan St. Francis Health, describes Michele Kuntz Wood, RN, as "a force to be reckoned with."
For women in Central Indiana, that is a good thing. As the manager of women's health for Franciscan St. Francis Health, Wood has worked tirelessly throughout her 37-year career to eliminate inequities in women's health care and put women's health issues in the mainstream. In 1992, she was among the local organizers for the first Race for the Cure.
"Her leadership over the years has established her as someone to be listened to in this organization. From the very beginning, she made a strong case for the hospital to get involved in the Race for the Cure," says Brody. "She made the case, and very appropriately, that women are deeply involved in health care decision making, and this was an element in the community we served that we needed to be more responsive to."
For Wood, who grew up in Beech Grove—practically in the shadow of St. Francis Hospital, there was an expectation of stewardship and volunteerism set early on by her father. Those deeply entrenched values melded with her life experiences.
"I'm 59 years old. I'm from that feminist era that is all about empowerment. I saw a lot of inequities in the world around gender so I kind of became a little bit militant about that while being intrigued by the struggles for power."
She joined St. Francis 26 years ago and initiated a women's health program. "I wanted to connect with other organizations, so I got out into the community and just talked with people. I really fell into the Komen Race for the Cure thing by accident," Wood says. Regardless, Race for the Cure has grown to be its own powerful force and raise millions for breast cancer research and services like mammograms for low-income women. She is also a founding member of Y-Me of Central Indiana, a breast cancer support group, and has served on the board of the Catherine Peachey Foundation, a fundraising group for breast cancer education and research.
"We still have huge gaps in services," she laments. "We've come a long way, but our incidents of cancers and stress-related diseases are still on the rise. Our challenge is to reach people in ways so they can prevent illness or have an impact before they are so catastrophic."
She is able to address those sorts of issues through her work with the Spirit of Women, a national program that provides top-notch programming at the local level and classes and services that support women in making healthy lifestyle choices.
Perhaps the greatest impact she has is in her one-on-one interactions with patients. Friend Connie Rufenbarger describes her like a crusty cookie, "a little tough on the outside with a soft center."
Lori Warner, director of women and children's services at Franciscan St. Francis Health, writes "I am a breast cancer survivor as well as Michele's director at Franciscan St. Francis Health. From the moment I was diagnosed through multiple surgeries and complications, Michele was right there with me, helping me find information, directing me about who to talk to and where to get my wig and navigating the slippery slope of cancer. She stepped in and advocated for me when I was too tired or too stubborn to do it myself … Michelle has a fire inside that burns bright for others."•
____
Click here to return to the Health Care Heroes landing page.
Please enable JavaScript to view this content.