WINNER: Volunteer
John W. "Jack" Heiney
Community Health Network Foundation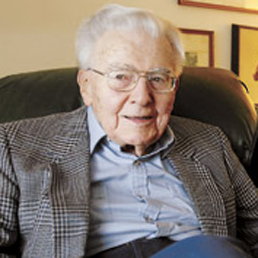 (IBJ Photo/ Perry Reichanadter)
Tom Brokaw coined the phrase "The Greatest Generation" to describe those who served their country valiantly in World War II. They went on to start families, create and move to the suburbs, launch businesses and lead corporations through the picturesque 1950s to the tumultuous and politically charged 1970s. Many of them started retiring then to warmer climates, country clubs and cocktails at 5.
One such member of that "greatest generation" is John W. "Jack" Heiney, who retired from Indiana Gas Co. in 1978 after serving as its president and CEO. But Heiney didn't simply retire to the golf course. Instead, he found himself spending more and more time in not-for-profit board rooms volunteering for Community Health Network Foundation and other area organizations. For that part of his retirement, many are grateful, including Michele Thomas Dole, the foundation's president and CEO.
Dole has seen not only the impact of his generous monetary gifts (including a $1 million donation in 2009), but the genuine, humble kindness of a man who exemplifies the word "philanthropist."
"It's not about his single gift. It is about his body of work—his leadership, compassion and commitment to Community Health Network and those it serves," Dole says. "He has worked tirelessly for Community Health Network as an unpaid, volunteer board member since 1970."
At age 97, Heiney is fairly pragmatic about his role as a revered philanthropist. "Indianapolis has been very kind to me, and it's been a way to give back." The argument can be made, of course, that Heiney has been very kind to Indianapolis.
The native of Pennsylvania and 1935 graduate of Lehigh University arrived in Indianapolis in the early 1950s, joined Indiana Gas and in 1960 became the company's president and CEO. Heiney was tapped early on by C. Harvey Bradley, a member of the Indiana Gas board of directors who also served what is now the Community Health Network Board.
"He came to my office one day and said, 'we need a director; you'll serve won't you?' And I said, 'Yes sir.' Two years later he came into my office and said, 'We need a chairman of the board. You'll serve won't you?'" He did, and never missed a single board meeting.
When he retired from Indiana Gas, he embraced the extra time he had to dedicate to the organization in which he already had substantial involvement. "I thought I could make a contribution to my fellow man," he says, "rather than delivering Meals on Wheels or something like that, I decided this was more up my alley."
Under Heiney's insightful guidance, business savvy and leadership, Community purchased 100 acres near Castleton that would later be home to Community Hospital North, which opened its doors in 1985. While considered quite risky at the time of the land acquisition, today Community North is recognized as a major factor in helping the organization grow while remaining financially healthy. Likewise, as a chairman of Visionary Enterprises (which today operates more than a dozen surgery centers in Indiana and Michigan along with surgical services at Community Hospital and a handful of other ventures), he led management down the road of expansion and helped shape the company into the successful business it is today. He continues to serve as a board member of VEI.
"It has been an interesting challenge," says Heiney. "I've worked at it as hard as I could, and I'm still active today."
Indeed he is, continuing his position as a director with the Community Health Network Foundation. Two years ago, he lost his partner of 68 years, Betty, and he subsequently moved to Marquette Manor. Despite that profound loss, he tries to maintain a positive outlook. "I just want to make the very best out of every day," he says.
His 2009 donation was noted as the largest financial donation in the organization's history, providing funds where they are most needed to improve health in those communities. In appreciation, the organization dedicated the "Jack and Betty Heiney Patient Care Tower" as a monument to the couple's altruism during the course of 40 years.
"When we dedicated the patient tower, one of the things I made a point of saying was, 'They don't make them like Mr. Heiney anymore.' He is more than a volunteer or donor; he is part of our family," says Dole. "I am continually humbled by his service. He is like the self actualization of what those of us at Community Health Network strive for personally and professionally."•
____
Click here to return to the Health Care Heroes landing page.
Please enable JavaScript to view this content.