FINALIST: Volunteer
Chris and Michele Brown
Aidan Brown Foundation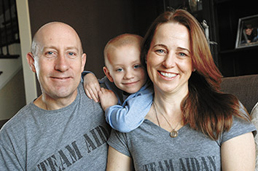 Chris and Michele Brown, with sons Aiden and Alex (not shown), have brightened many lives. (IBJ Photo/ Perry Reichanadter)
There is little one may encounter on life's path that seems less fair or more horrifying than one's child being diagnosed with a life-threatening illness.
Chris and Michele Brown are the first to agree that having their 5-year-old son Aidan diagnosed with Stage 4 Neuroblastoma last year threw their lives into a chaotic, emotional spin for which they were not prepared.
But in those days a couple of wonderful things happened. Chris Brown's boss, Indianapolis entrepreneur Scott Jones, presented Aidan with an iPad. And despite the fact that Aidan was going through his share of both discomfort and fear, the multi-use technological gadget provided the distractions necessary to make time pass quickly.
Meanwhile, an outpouring of support and offers of help cascaded over the Browns. Parents from Orchard School, where their boys attended, along with other neighbors, friends and friends of friends all were asking, "What can we do? How can we help?" For the Browns, it became an opportunity to bring to life the old cliché "turning lemons into lemonade."
Within six weeks of Aidan's diagnosis, the Browns formed the Aidan Brown Foundation with the express mission of raising funds to purchase iPads for children diagnosed with cancer in Central Indiana. To date, in slightly more than six months, the effort has collected more than $60,000 and distributed 65 iPads.
"What has really been amazing," says Michele, "is that these donations aren't big corporate donations. These are $5 and $10 donations from classmates and teachers coming up with really creative ways to make money … Zumba classes, costume parties, singing telegrams for Valentine's Day. We have been graced with an abundance of genuinely kind offers, and it's created this 'pay it forward' effort to generate funds that we can turn into iPads for children like Aidan."
The Brown family has received numerous letters from families whose children have received their iPad during treatment at Riley. "What is so sweet is when one of these children comes up to Aidan and thanks him for the iPad. To see that interaction is just priceless," says Michele.
The Browns are quick to recognize Michelle Goyer and Seema Verma Mishra, who initially coordinated meals, assisted with Aidan's older brother, Alex, and leant moral support during the Aidan Foundation launch. In addition, Butler University basketball coach Brad Stevens has made a special point of visiting Aidan and showing his support in a number of ways.
Aside from the funds they are raising to help other children, one of the greatest gifts for the Browns has been the way in which the Carmel community has embraced them. "We have no family here. We are from New Jersey and New York, but transferred here from Washington, D.C., about three years ago," says Michele. "Now we have so many friends … this is more 'home' than anywhere we have ever lived."
Meanwhile, after five rounds of chemotherapy to shrink the tumor and surgery to remove it, followed by more chemo and then a stem cell transplant at Riley, Aidan is doing well. He is cancer free and is currently strengthening his immune system.•
____
Click here to return to the Health Care Heroes landing page.
Please enable JavaScript to view this content.