FINALIST: Volunteer
Tyler Hoeppner
St. Vincent Foundation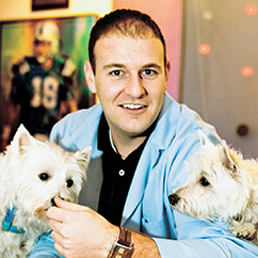 Tyler with therapy dogs Lilly and Izzy. (IBJ Photo/ Eric Learned)
"For a 26-year-old man to drive from Columbus (Ind.) twice a week to do what he does is remarkable," says James L. Nevin, Jr., M.D.
The man to whom Nevin is referring is Tyler Hoeppner. The "what he does" is volunteer for the St. Vincent Pet Ministry at St. Vincent Indianapolis Hospital.
"He's not the typical volunteer who is a retired individual or board member staying at home; it is a calling for him," says Nevin.
Call it what you want—a calling, an early inspiration, a personal connection—but volunteering in a healthcare setting is something that he has wanted to do for a long time.
"When I was in third grade, I had pneumonia and was in the hospital for more than a week," Hoeppner recalls. "My mom had to work, and dad was on a business trip that he couldn't get out of. Sometimes my grandmother would stop by, but for the most part it was a long and boring day. But there were people who came around and played games … just did stuff with kids to keep them occupied. I always thought that was something that I'd like to do some day."
That day happened when Hoeppner was working as a sports reporter for the Columbus Republic newspaper in 2008. "You have a lot of time during the day because you're working at night covering games. I thought, 'I need to do something.'" The option for the Pet Ministry program was offered up and, even though Hoeppner had never owned a dog, he thought it seemed like fun.
"I had a great person in Carrel Regan to shadow. She showed me the ropes," he recalls.
Hoeppner has seen the benefits of having the dogs in tow regardless of the age or condition of the patient. "The dogs always give us an 'ice breaker,' and they get people to light up whether they are three or 83."
Nevin, who is the owner of one of the therapy dogs, says that while the benefits are well-documented for patients, there's an additional benefit to both the hospital personnel and handlers.
"When the emergency department staff is overwhelmed, and a dog comes up and gives you unconditional love, it lowers your blood pressure and puts a smile on your face. It's a great thing," Nevin says.
It has had an even greater impact on Hoeppner. He has returned to school and has applied to the IU School of Nursing, where he plans to earn his BSN. A long way from Friday night lights? Not really, says Hoeppner.
"There's really a lot of similarities between those quick-thinking, decision-making situations and working on [a newspaper] deadline," he says. "And I've just gained such a great insight into health care through some really moving experiences."
Perhaps the most profound was a little boy who was 5-years-old with some pretty severe health issues. "He was having all kinds of issues with communication. I came in with Lilly, one of our most gentle, sweet dogs, and his mom helped direct his hand to pet the dog … and he smiled. Lilly licked his hand and he laughed. His mom turned to me and said, 'That is the first time he has laughed in weeks.'"•
____
Click here to return to the Health Care Heroes landing page.
Please enable JavaScript to view this content.