Donald E. Brown, CEO of Interactive Intelligence Inc., sold $5.5 million worth of shares on Feb. 11.
Executives and directors at several Indiana public companies took advantage of market strength in February to pare back their stock holdings, narrowly missing a pullback sparked by turmoil in Libya.
Nine company leaders sold at least $1 million worth of shares and dozens of others sold smaller portions, a review of February insider transactions shows.
While insider purchases tend to send a clear message to the market that executives believe their company's shares are undervalued, it's tougher to assign meaning to stock sales, including recent transactions by executives at Cummins Inc., Brightpoint Inc. and Interactive Intelligence Inc.
Executives reached by IBJ said they cashed in to diversify or to free up cash for charitable giving—not because they saw trouble ahead for their companies.
Kenneth Klabunde, a vice president and financial adviser at locally based City Securities Corp., isn't seeing "free-for-all selling" that would suggest executives have turned broadly pessimistic. Many of the sales involved cashing out profitable stock options.
"It's simply a function of most of these guys have seen their stocks double in the last year and a half, and are taking some money off the table," Klabunde said.
Adam Seessel, director of research for Elkhart-based Martin Capital Management, sees the sales differently. He contends recent insider sales are more of a "signal" to the market than "noise."
In the fall, executives unloaded shares because they feared changes to the tax code.
"Executives had a real reason to sell because they thought they would have higher taxes," Seessel said. "This stuff here in the winter—after it's clear tax cuts will be extended—is different. The market continues to go up and executives are voting with their feet."
Seessel and his firm are bearish on the stock market, and the insider sales are a component of their case. Also factoring into the firm's pessimistic outlook is a nearly five-year low for the ratio of investors who are bearish and a new high for margin borrowing.
Insider sales are not an automatic signal to sell since there are plenty of legitimate reasons for an executive to sell, but the sales are worth examining, Seessel said.
"We want high insider ownership of our companies," he said. "Otherwise it's a 'heads I win, tails you lose' kind of culture, with the CEO just playing with salary and options and not really feeling the gain or pain of ownership."
Insider sales should be evaluated case by case, said George Farra, co-founder and principal in locally based Woodley Farra Manion Portfolio Management, which has $425 million under management.
A key consideration is whether the seller remains a substantial shareholder.
"If they're selling off pieces here and there, I would take advantage, too," Farra said. "It's really hard to fault anyone for getting out near a peak."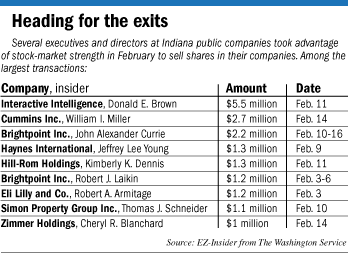 Of course, the sellers could not have predicted the revolution in Libya and rising gas prices, he said.
Cummins Director William I. Miller joined four other company officials who sold shares in February. Miller sold 20,000 shares—about 40 percent of his holdings—for about $114 apiece, just shy of the all-time high for the company's shares. *
Cummins shares fell to $100 each by early March. Miller—whose father, J. Irwin Miller, was a longtime Cummins CEO—still holds 31,000 shares.
Several insiders at Brightpoint, including CEO Robert J. Laikin, sold shares after the company reported fourth-quarter earnings and a 2011 outlook above Wall Street expectations.
The results, announced Feb. 2, sent shares up more than 30 percent, from about $9 to $12. Laikin sold $1.2 million worth Feb. 3-6.
Laikin said in an e-mail that he generally sells to diversify since the company pays executives about 60 percent of their compensation in stock.
Diversifying now can look particularly appealing, considering the roller coaster shares have taken in the past few years.
Batesville-based Hill-Rom Holdings Inc. fell to just $9 a share in March 2009 before rising to above $40 in February. On Feb. 11, Hill-Rom Vice President Kimberly K. Dennis exercised options to buy shares for between $32 and $33 apiece and sell them for $40, netting $240,000 in profit from a $1.3 million sale, records show.
The largest February sale among local executives: Donald E. Brown, CEO of software developer Interactive Intelligence, sold $5.5 million worth of shares on Feb. 11 by exercising expiring stock options.
The shares had more than doubled from the prior year, rocketing from $17 to $37. Brown could have either paid to take possession of the shares or cash out his gains. His exercise prices ranged from $2.51 to $5.80 per share, giving Brown a profit of at least $4.7 million.
Brown said he's looking to invest about two-thirds of the proceeds in a biotech startup and designate the rest as charitable contributions, including for an Indiana University charity called AMPath that provides AIDS prevention and treatment in Kenya (an organization led by his former high school wrestling buddy Dr. Robert Einterz).
The sale represents a tiny portion of Brown's stake in Interactive Intelligence. He still owns some 4 million shares worth more than $140 million. He has no specific plans to sell more shares.
"It seemed like a good time—we had put out our fourth-quarter numbers and estimates for the year," Brown said. "I'm still invested with the other shareholders. I'm focused on maximizing my shares in a way that benefits me and everybody else."
Of course, not everyone is selling. Executives at Evansville-based sporting goods specialist Escalade Inc. haven't sold a share in two years. Chairman Robert Griffin and his son Patrick have been buying.
CEO Robert J. Keller bought 29,000 shares when he joined Escalade in 2007, and he now holds options for another 220,000 shares.
"It's important if you're a director or executive of a company to think and act like a shareholder," Keller said.•
* Correction: An earlier version of this story incorrectly reported the number of shares Cummins Director William I. Miller sold in February.
Please enable JavaScript to view this content.