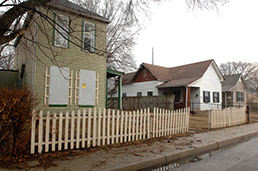 Keep Indianapolis Beautiful has proposed bulldozing four historic homes near its headquarters.(IBJ Photo/ Perry Reichanadter)
A proposal by Keep Indianapolis Beautiful to bulldoze four century-old homes near Fountain Square has sparked a battle between the neighborhood beautification group and some of its typical allies: historic preservationists.
KIB, which does projects from tree plantings to trash pickup, last month floated the idea of tearing down four houses and a commercial building to make way for more plant and tree storage space by its Fletcher Avenue headquarters.
The idea hasn't sat well with neighbors, some of whom work in historic preservation and have rallied groups such as Indiana Landmarks to their side. They say the homes have historic value and shouldn't be tampered with – particularly by a group whose mission is to improve neighborhoods.
"To me, this is destruction of neighborhoods," said Connie Zeigler, who lives in the area and works as a preservation consultant, protecting neighborhoods from having houses torn down. "[KIB] is all about being green and yet they're doing the exact opposite by destroying homes that already exist."
KIB leaders stress they haven't decided yet whether they will tear down three of the houses–two Queen Annes and an Italianate on Lexington Avenue–whose demise draws most concern from neighborhood residents. That is just "the first option we're looking at and putting out to the community," said the group's president, David Forsell.
After the neighborhood outcry, KIB began looking at alternatives. Forsell said the group hopes to decide how to move forward by early next week.
"We exist in very large part to meet the desires of the community that wants to improve itself," Forsell said. "I hope we've been acting very consistently in putting this out there and going through this process with a lot of folks being very alarmed."
KIB has decided to demolish the other two properties–a body shop and a green double on Grove Street. Neighbors aren't concerned about tearing down the body shop, which KIB owns, since the building is newer.
The homes don't qualify to be in a historic preservation district or on the National Register of Historic Places. But Zeigler said they have their own historic significance.
The six-block neighborhood, dubbed North Square, was the first addition to the city after the original mile square was platted. One of the houses was among the first five built in the neighborhood dating to the 1870s, Zeigler said. The others are at least a century old.
 "These may not be capital H but they're little h historic," said Mark Dollase, vice president of preservation services for Indiana Landmarks, who has visited the houses. "They're important as part of the streetscape and as part of the fabric of neighborhoods. When you take them out, leave behind an empty lot, that diminishes the city as a whole."
KIB employee Phil Schaefer, who has done preservation work on the Old Northside, purchased the homes and intends to donate them to KIB. Forsell said he wasn't aware Schaefer was making those purchases but thought the idea of using them was worth considering. Schaefer did not return a phone call requesting comment.
Among the things KIB leaders must determine is whether the agency can afford to demolish the three houses on Lexington. If the group proceeds, Forsell said, it would "create a place that is beautiful and is an asset," including tree plantings and gathering space with the tree-storage area.
Forsell said he's also given some thought to whether tearing down the houses conflicts with his group's mission. What he's concluded is that it would be for the greater good.
KIB needs space beyond its building to store materials the group plants, in some cases employing high-school students to do so.
"If that was the route we were to take I'd feel a loss and discomfort," Forsell said. "[But] the question is, can that space provide young people opportunities, and can it be a place where our urban forest is tended and grown?"
Please enable JavaScript to view this content.