Delays getting new diabetes meters into the U.S. market appear to have tripped up Roche Diagnostics Corp. on its way to acquiring a key software vendor.

In court documents filed in Indianapolis, officials for Virginia-based Medical Automation Systems Inc. described Roche's product line for hospitals as "a sinking ship" because the U.S. Food and Drug Administration declined to approve Roche's next-generation Accu-Chek Inform II blood glucose meter.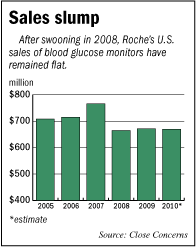 "Roche had failed over a two-year period to get its new meter into the marketplace, and exclusivity was frankly getting ready to kill our business," said Kurt Wassenaar, CEO of Medical Automation, in a deposition for a lawsuit filed by Roche in late December.

His company provides software exclusively to Roche to link glucose meters to hospital medical record systems. But after agreeing to sell its assets to Roche in October, Medical Automation reversed course and in January agreed to sell itself to a Roche competitor.

Roche has challenged that new sale in court and on March 4 received an injunction against the deal from the U.S. Court of Appeals for the Seventh Circuit in Chicago.

Still, the revelation from Wassenaar is the latest sign of Roche's being stymied in the U.S. diabetes market even as its global business continues to grow.

Switzerland-based Roche manages its North American business out of Indianapolis, where it employs nearly 3,000 workers on a sprawling campus near Interstate 69 and Hague Road. The company is the 20th-largest employer in Indiana.

Roche's diabetes business employs about one-third of its Indianapolis workers. But the business has run into a sales wall recently as Roche has been unable to bring new products to market here.

Sales of Roche's blood glucose monitors last year totaled $669 million, down slightly from the year before, according to research by San Francisco-based Close Concerns Inc. Roche's U.S. glucose monitoring revenue has fallen 13 percent since its peak in 2007, according to Close Concerns.

Roche is not alone. Most other major companies have experienced a drop-off in U.S. revenue of blood glucose monitors during the recession of the past three years. Only Home Diagnostics Inc., which makes generic meters that retailers can stamp with their own brands, has enjoyed any growth selling traditional blood glucose meters.

In addition to not being able to get the Inform II meter out for hospitals, Roche has not been able to launch its next-generation meter sold through retailers, what it calls the Accu-Chek Nano. The product has been selling well in Europe since it was introduced there in 2009.

But Roche withdrew its U.S. Nano application after the FDA expressed concerns about the Nano's use of Roche's traditional test strip technology, which uses an enzyme that sometimes fails to distinguish between glucose and another sugar in the blood called maltose. In a very small number of cases, this enzyme has led to a glucose reading higher than reality. When this has occurred in hospitals, the patients were sometimes given far larger doses of insulin than necessary, causing some deaths.

As a result, Roche decided to develop a maltose-free strip for the Nano. It says it expects to apply for approval of a maltose-free Nano product sometime this year.

The Inform II for hospitals also was engineered to avoid the problems with maltose. Roche filed the new product with the FDA in April.
But in December, the FDA declined to approve the product, for reasons not made public by the agency or by Roche. Roche spokeswoman Betsy Cox said the company is still in discussions with the FDA.

But Medical Automation's Wassenaar described the situation with Inform II as more grave, saying "there were no immediately clear paths or plans for when it would be approved, if ever."

Roche's current glucose meter for hospitals, Accu-Chek Inform, has been on the U.S. market for 10 years. Technology has advanced significantly since then, providing features in competitors' products beyond Inform's capabilities.

"Our customers weren't able to have a viable meter solution from Roche, and because we are tied to them, we face losing a significant portion of our customer base," Wassenaar said.

He added, "It was a very hard decision to make, but we felt that unless we started the process of separating ourselves, that we were really going to be in a very, very bad position relative to our future viability as a business because of the Roche problems."

Of, course, Wassenaar had 3 million other reasons to break things off with Roche.

That's how much more Massachusetts-based Alere Inc. offered to pay to acquire Medical Automation, compared with Roche's offer of $40 million. Wassenaar and his business partner, Greg Menke, are the majority shareholders of Medical Automation.

They agreed in October to sell their key software assets to Roche for $38 million, plus the forgiveness of $1.9 million in debt, pending the approval of Medical Automaton shareholders.

But Alere, which distributes a glucose meter called Epocal to hospitals, wouldn't give up. In her opinion on the case, federal Judge Sarah Evans Barker described Alere as "ever the ardent and persistent suitor."

Alere offered to pay $40 million for Medical Automation, in cash, and without some of the caveats that came with Roche's offer. In January, it upped the offer to $43 million.

In court filings, Medical Automation attorneys argue company officials did not encourage Alere's repeated offers or enter into negotiations. But in November, Wassenaar and Menke presented details of both offers to shareholders—of which they are the largest—then watched them vote down Roche's deal.

In early December, Wassenaar called Alere and said he was ready to start negotiations. Not until late December did the news of a further delay on Inform II enter the picture.

In mid-December, Roche had objected to Medical Automation's romance with Alere, declaring it had the right to match any competing offer. When Medical Automation didn't agree, Roche filed suit in federal court in Indianapolis to get an injunction to stop the marriage with Alere.

"MAS and Alere then agreed to conclude their transaction after Dec. 31, 2010, out of fear that they had triggered Roche's first right of refusal," wrote Roche attorneys, referring to Medical Automation by its initials, in a court filing. "There is no doubt they had."

Barker placed parameters on the merger, but did not halt it. She ordered Roche and Medical Automation to sort things out in arbitration.

Roche immediately appealed and won a partial injunction that says Alere and Medical Automation cannot merge until they provide documentation that Medical Automation has not and will not share with Alere any confidential information from any of its customers, including Roche.•