Christ Church Cathedral has given $400,000 to help rebuild Holy Trinity Cathedral in Port-au-Prince, Haiti, which was destroyed in the January 2010 earthquake.
In addition to being the center of the Episcopal Diocese of Haiti, Holy Trinity was home to a national symphony and music school. The Smithsonian Institution is stabilizing two of the cathedral's famous naif murals, which survived the quake.
"It's like rebuilding the monument on the Circle," Canon Rees Olander said. "However impractical it may seem, you just have to do it."
The Indianapolis cathedral announced its gift in conjunction with Trinity Wall Street Church in New York, which is giving $100,000, at a recent meeting of endowed Episcopal parishes in Chicago. Christ Church, which was Eli Lilly's home church, has an endowment worth $64 million. Olander said the church went into its reserves to make the gift on top of its usual distributions to local charities.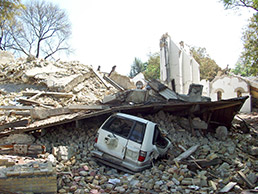 Holy Trinity Cathedral in Port-au-Prince, Haiti, received $400,000 for rebuilding from Christ Church in Indianapolis. (Photo Courtesy Christ Church Cathedral)
The Very Rev. Stephen Carlsen, dean of Christ Church, hopes the two churches' combined $500,000 gift will inspire others across the United States to give to the effort.
Episcopal is the second-largest denomination behind Catholic in Haiti, and the Haitian diocese is the largest in the Episcopal Church.
Christ Church did not have a presence in Haiti before the quake, but has since launched a mental-health mission, helping Haitian church and community leaders assess post-traumatic stress, Olander said. Members of Christ Church are supporting a small church in rural Haiti that's trying to rebuild its school.
Please enable JavaScript to view this content.