The sprawling new brick home on South Emerson Avenue looks like a typical upscale residence even though the owners' intentions for it are unusual.
"The Emerson House," an 8,000-square-foot structure with 12 private bedrooms and baths, could become a model for the growing senior living sector.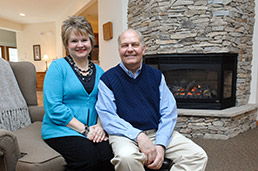 Kathy and Paul Brakke, who have backgrounds in gerontology health care management, find that seniors are reluctant to leave their homes until they have little choice. (IBJ Photo/ Perry Reichanadter)
The idea is to house as many as a dozen healthy residents who prefer a homey atmosphere without the responsibilities of ownership, in addition to providing them companionship of other seniors. That, in turn, might delay their need for medical care.
Perhaps most peculiar is that owners Paul and Kathy Brakke also live in the house and provide meals, transportation, housekeeping services and activities for the residents.
"We're just trying to help people stay vibrant longer," said Paul Brakke, 58. "We're not providing home health care."
The couple launched Indianapolis Senior Living LLC with the formal opening of Emerson House in June. So far, just two tenants live in the house. But additional inquiries from seniors considering a move to assisted living give them optimism.
One of the two residents is Delois Hinton, a south-side native who resisted prodding from her son to move into an assisted-living facility after a hospital stay that left her unable to drive. But the 77-year-old has had a change of heart since arriving shortly after Emerson House opened.
"I thought I needed to stay home, but Kathy and Paul are very accommodating," she said. "They just do everything they can to make it comfortable and pleasant."
Among the benefits the Brakkes tout is the interaction residents receive by being surrounded by other seniors in a close-knit atmosphere. Kathy's lunches and dinners encourage them to sit together.
A 2,000-square-foot common area with furniture and a television adds to the community feel.
Residents can receive visits from home health care providers, and the Brakkes often shuttle tenants to appointments via their car and minivan, including a trip to the dentist on one recent morning.
A guest bedroom and bathroom also is available for overnight visitors.
Rent is $1,800 a month and $2,200 for a couple sharing a room. Residents sign a one-year lease, but it can be terminated with a 30-day notice to "take some of the fear away," Paul said.
Yet, one of the couple's biggest challenges is that the demographic they're targeting—healthy seniors—are reluctant to give up their homes.
Becky Carter, executive director of the Indiana Assisted Living Association in Indianapolis, acknowledged the uniqueness of the Brakkes' concept and the difficulties.
"Right now, occupancies are soft in the assisted-living market because people can't sell their homes," she said.
They could get a boost from an aging population. The number of Americans age 65 and older is expected to grow 76 percent over the next 20 years, according to a 2008 projection by the U.S. Census Bureau. The number of senior Hoosiers should grow 52 percent in the period.
Wealth of experience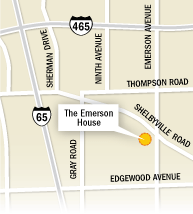 The Brakkes didn't jump into the sector on a whim.
Paul boasts an MBA in health care management and Kathy, 57, spent 15 years as an activities and programs director in senior communities.
He grew up in southern Minnesota and she was born in St. Louis and later moved to Nebraska. They met while attending Augsburg College, a Lutheran school in Minneapolis. Paul earned a business degree and Kathy earned hers in social work. She also has a certificate in gerontology from Ball State University.
Paul spent several years at the Minnesota Dental Association, ascending to assistant executive director, before his 1992 appointment as executive director of the Indiana Dental Association brought the couple to the Indianapolis area.
He stayed for three years before joining the Indiana Business Modernization and Technology Corp., where he was in business assessment services and later became a loan officer funding early-stage companies.
He lost his job when BMT folded into the newly formed Indiana Economic Development Corp. in 2005. After working as an independent contractor consulting to not-for-profits on strategic planning and teaching within Purdue University's technical assistance program, the couple decided to pursue their dream of becoming business owners.
Paul credited Kathy with the idea.
"This was something we thought we could do," Kathy said. "This idea is strictly related to what Paul and I are good at."
The couple have three grown children living in California, Florida and Bogota, Colombia.
Slew of red tape
The Brakkes have invested $700,000 backed by a U.S. Small Business Administration loan. The difficult lending environment took the couple on a two-year journey.
The idea is that, if they can receive traditional bank financing, the business model might be easier for others to replicate.
Selling their Greenwood home eliminated a mortgage and enabled them to use the money as an emergency fund.
"We definitely want to make a profit," Paul said. "We want to prove a business concept, bottom line."
Finding an acceptable location for the home and meeting necessary city zoning requirements proved as challenging as securing financing.
Offers on three parcels fell through. They finally purchased the lot at 5510 S. Emerson Ave. near East Shelbyville Road from Greenwood-based Mainstay Inc. The custom homebuilder's subsidiary, Provence Properties Inc., developed Coventry Park Village, consisting of town homes, just west of the lot.
The low-lying, one-acre lot surrounded by wetlands needed 180 truckloads of fill dirt to bring the property up to construction grade. That a sewer hookup extended from the town home community made the extra work worth the effort.
Building codes also exacerbated the process. The house was built under residential codes, but not without a variance. Indianapolis' commercial code would have required a sprinkler system and all doors to be labeled "Exits."
The variance allows the Brakkes to house 16 people instead of the 10-resident limit under normal residential codes.
Under state law, the Emerson House is exempt from licensing because it does not provide medical or nursing care and qualifies as a "housing with services establishment," said Jim Utterback, a health care lawyer at Bose McKinney & Evans LLP.
"They want folks who really aren't ready for, or are in need of the activities of, daily living assistance, so they're providing more of a family companionship rather than nursing care," Utterback said. "Which means they're trying to carve out a niche that is different from what you might see of most assisted-living facilities."
Without much of an advertising budget, the Brakkes hold monthly open houses and distribute fliers at churches and senior community centers.
Still, said Kathy, "the biggest challenge is letting people know that we're here."•
Please enable JavaScript to view this content.