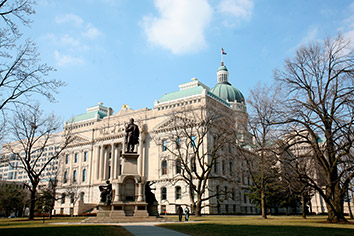 Executives from two of Indiana's most prominent companies told a state Senate committee on Wednesday that their ability to recruit top employees could be hurt by a proposed constitutional amendment that would ban gay marriage and civil unions.
Supporters countered by telling the Senate Judiciary Committee that the amendment would not restrict employers from offering insurance or other benefits to same-sex partners as some already do, even though current state law defines marriage as between one man and one woman.
The committee heard more than two hours of public testimony, but delayed a vote on whether to send the proposed amendment to the full Senate until next week.
More than 40 states prohibit same-sex marriage and more than half of those prohibit it through their state constitutions.
James Bopp, a Terre Haute attorney who has been active in gay marriage ban efforts in several states, said the constitutional amendment was needed in Indiana to prevent "activist judges" from overturning the state law.
"It is just foolish to ignore the danger when there are ready remedies available," Bopp said. "If the people of the state of Indiana don't want to protect marriage between a man and a woman, then they will defeat this amendment."
Several opponents told the committee they believed the amendment would write discrimination into the state's constitution.
That perception is a worry for companies that are competing nationally to attract highly skilled workers to Indiana, said Jill Cook, vice president of human resources for engine maker Cummins Inc.
She said putting a gay marriage ban in the state constitution would "cause irreparable harm" to Indiana's business climate and complicate the company's decisions on where to locate some high-paying professional jobs.
"We will be reluctant to add those jobs if Indiana is a less welcoming and inclusive place for all of our employees," Cook said.
Shaun Hawkins, chief diversity officer for Eli Lilly and Co., said attorneys for the drug maker were worried that the amendment's ban on "a legal status identical or substantially similar to that of marriage" was vague and could impair its ability to offer domestic partner benefits.
Committee Chairman Richard Bray, R-Martinsville, was skeptical of any such impact on private companies or even public institutions, such as universities, that offer such benefits.
"They are doing it right now under the current statute," Bray said. "An insurance company or an employer can give any benefits they wish to employees."
A similar amendment banning gay marriage passed the General Assembly in 2005 when Republicans controlled the House and Senate. But in 2006, Democrats won control of the House and would not let the proposal come to a vote, so the process had to start over.
The Republican-led House voted last month in favor of the amendment. If the Senate approves it this year, it would have to pass the General Assembly again in 2013 or 2014 to get on the 2014 ballot for a statewide referendum.
Please enable JavaScript to view this content.