From her 17th floor penthouse condominium in Tarkington Tower in midtown Indianapolis, Lorene Burkhart can see in every direction over the city, but the view she enjoys the most is that of the public elementary school where she volunteers nearly every day of the week.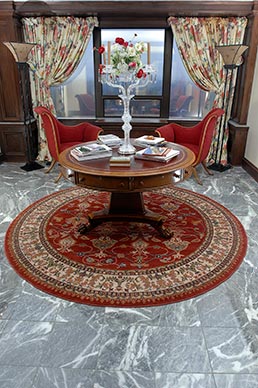 Lorene Burkhart's 4,500-square-foot condominium features plenty of space for entertaining. She regularly hosts fundraisers, cocktail parties, dinners and other social gatherings. (IBJ Photo/ Perry Reichanadter)
As a tutor at IPS 43, also known as the James Whitcomb Riley school, Burkhart lends her time to second-graders who need anything from a reading lesson to a grandmotherly hug.
"I started out at one day a week and now I am there four or five days, because I got so attached to these children, and there was so much needed," said Burkhart, a staple of the Indianapolis business, social and charitable scene for decades.
She doesn't use her perch as a lofty one. Those who have worked with Burkhart on cultural and philanthropic initiatives describe her as a hands-on, down-to-earth benefactress who gives her time to the community and opens her home for a variety of gatherings.
In her 4,500-square-foot, three-bedroom condominium at 4000 N. Meridian St., Burkhart has hosted fundraisers, dinners, cocktail parties and other soirees for a variety of local arts and community groups.
"She certainly has been a gracious hostess," said Sean Dunlavy, vice president of development for the Indianapolis Symphony Orchestra. "Anything you ask her to do … I don't know if she's ever said no. It's nice to know you have someone like that."
A southern Indiana native who battled cancer three years ago, Burkhart relies on her farm upbringing to bolster her work ethic and her attitude.
"I do what needs to be done and I don't dwell on it," she said. "I like to work and be productive."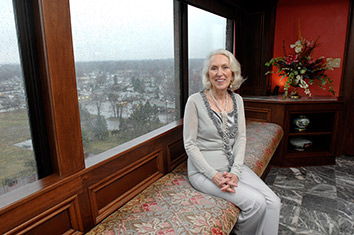 (IBJ Photo/ Perry Reichanadter)
Now a full-time author, public speaker and volunteer, Burkhart, 76, is known to many as a mover and shaker in local media. The former owner of The Register and Issues IN Business currently publishes children's books and other titles through her company, the Burkhart Network.
Her late husband, John Burkhart, started College Life Insurance Co., co-founded the Indianapolis Business Journal, and, among other positions, served as chairman of the Capital Improvement Board before his death in 1999.
The couple established their Tarkington Tower home in 1989, when they bought three adjacent condos and converted them into one large unit. The Burkharts relocated to the north side in 1996, selling the condo as John's health declined. But when Lorene struck out on her own three years later, she was pleasantly surprised to find her former home on the market.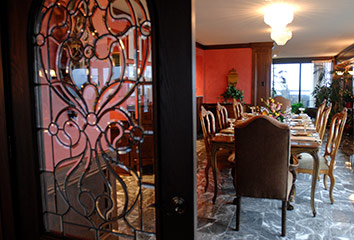 (IBJ Photo/ Perry Reichanadter)
Burkhart describes a feeling of "serendipity" in returning. "I always loved living here," she said. "It's so convenient to everything."
The high rise was built in 1966 as a high-end apartment complex and was converted into a condominium complex in 1979.
Since moving back, the grandmother of five has filled the home with reminders of family and travel. Artifacts and artwork from France, China and Thailand are sprinkled throughout the spacious formal living room, while personal photos and family mementos decorate the more casual family room off the kitchen.
In the so-called "Pyramids" room Burkhart honors the Pyramids office complex that her husband built on the northwest side in the early 1970s. A glass replica of the uniquely shaped buildings is on display in the room, which offers a direct view of the site on a clear day.
Burkhart gets frequent use out of her guest digs when grandchildren come to stay. When they're in town to work with local arts organizations, visiting artists and musicians often stay with Burkhart in one of her two guest suites.
Though she spends most evenings out and rarely cooks, Burkhart enjoys using her updated kitchen for baking. As ISO's Dunlavy notes, she not only hosts large events, but also provides homemade desserts for many of the parties held at her home.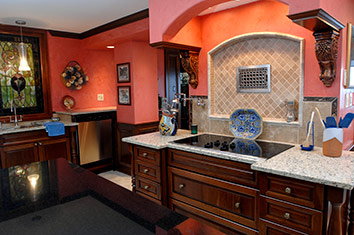 (IBJ Photo/ Perry Reichanadter)
Those parties can range from the low-key—get togethers for a women's group Burkhart founded called Single Pals—to the more opulent, like the event she put on for the crown prince and princess of Serbia four years ago. Prince Alexander and Princess Katherine Karadjordjevic visited Indianapolis in 2007 to receive the inaugural Ambassadors for Children Peace Award and were feted at an intimate dinner party.
Her "most spectacular party," according to Burkhart, took place in 2005 to celebrate the ISO's season-opening gala. Renowned opera singer Sylvia McNair performed at the event.
Whether she's hosting European royalty or Colts fans on game day, Burkhart loves to call Tarkington Towers home. Though some may balk at the location just blocks away from 38th and Meridian streets, she finds the neighborhood safe and the building secure, thanks to 24-hour security.
"People say, 'Aren't you afraid to live here?' and I say, 'No, why would I be?' We've never had a break-in or anything," Burkhart said. She enjoys showing off her home and the building as a hidden gem. "People who have never been in this building are just astounded. They have no idea a place like this exists."•
Please enable JavaScript to view this content.