Six gas-distribution companies have urged regulators to reject a state plan that would force residential natural-gas customers to effectively subsidize a $2.7 billion coal gasification project proposed for Rockport.

Meanwhile, Vectren Corp., while favoring construction of a gasification plant in Indiana, said it does not support the proposed 30-year term of the contract with the state—citing "dramatic" changes in coal and gas markets.

The Indiana Finance Authority and prospective plant owner Leucadia National Corp., of New York, say the project could save Indiana gas customers more than $100 million by providing synthetic natural gas, or SNG, as a hedge against swings in natural-gas prices.

But the two have made flawed projections of future coal and natural gas prices that pose "enormous" risks to Indiana's residential gas customers, John Stenger, of Greendale-based Sycamore Gas Co., said in testimony filed March 23 with the Indiana Utility Regulatory Commission.

"I respectfully question why the IURC would approve this petition in any event, much less in the expedited fashion requested," Stenger said. "We urge the commission to find that the proposed contract is not in the public interest."

He also testified on behalf of Community Natural Gas Co., Indiana Natural Gas Corp., Midwest Natural Gas Corp., Ohio Valley Gas Corp. and Ohio Valley Gas Inc.

Evansville-based Vectren also questioned economic projections. The gas- and electric-utility holding company said it supports Gov. Mitch Daniels' policies to make more use of advanced coal and energy technologies—as does Indianapolis-based Citizens Energy Group.

But Vectren said the contract as drafted is problematic.

"Vectren … believes that the expected costs and risks presented by the SNG arrangement exceed any benefit that the arrangement would provide as a hedge against volatile gas prices," Jerrold Ulrey, vice president of regulatory affairs and fuels, told the IURC on March 28.

Ratepayers have stake

The commission is on a fast track to consider whether to OK the contract. The IURC begins field hearings next month in Indianapolis, Jasper and West Lafayette.

The project has the support of Gov. Daniels, a friend to the coal industry through his administration's "home-grown energy" policy, which has helped expedite projects such as Duke Energy's coal gasification electric generating plant, being built in Edwardsport. Originally projected to cost $1.5 billion, costs have escalated to nearly $3 billion.

Leucadia, which would operate the Rockport SNG facility as Indiana Gasification LLC, couldn't get private financing to build its plant.

Also, Leucadia was unsuccessful three years ago in negotiating a contract with Vectren and with Citizens Energy to buy gas to be produced at Rockport.

But Leucadia, with holdings in everything from oil drilling to telecommunications and more than $1 billion in annual revenue, persisted.

It negotiated a nearly $2 billion federal loan guarantee from the Department of Energy to help with construction costs. Perhaps more important, it struck a deal with the Indiana Finance Authority, which will buy the gas the plant will produce.

The IFA would spend an estimated $6.9 billion over 30 years to buy synthetic natural gas at about $6 per million BTU. Currently, such an amount of natural gas is running about $4.20.

Leucadia and the IFA are ultimately betting that natural-gas prices will rise in the decades ahead, however.

An economist testifying for the state's Office of Utility Consumer Counselor said the proposed arrangement is analogous to an insurance policy against the risk of high natural-gas prices.

Ultimately a bet

The IFA would sell the synthetic gas on the open market. If the state sold the gas for more money than it paid for it, it would split the profit with Leucadia, with the state's share of the profit applied toward lowering consumers' gas bills.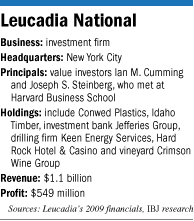 If, on the other hand, the state sells the gas for less, the loss is recovered from consumers in the form of higher gas bills.

To alleviate the effect of such a scenario, Leucadia would set aside $150 million to offset potential losses for ratepayers.

However, Stenger told the commission that "any number of reasonable price-projection scenarios" show losses in excess of the $150 million reserve fund.

Speaking for Vectren, Ronald Norman, of Cambridge, Mass.-based PA Consulting Group, said the $150 million could be "virtually exhausted" if the market price of natural gas is just $2 below the adjusted contract price for the plant's synthetic gas.

One factor that could drive down or stabilize prices of natural gas, which SNG competes with, is increased production of shale gas, said Stephen Thumb, of Arlington, Va.-based Energy Ventures Analysis Inc., testifying for Vectren.

The IFA and Leucadia said they have factored in the effects of shale gas on market prices in their long-term outlook, though they haven't deemed it as much a threat as some analysts have.

Thumb noted that companies such as Exxon Mobil plan to aggressively ramp up shale production. Moreover, the Energy Information Administration said this month that domestic gas production has hit new records, as volumes from shale formations increase, such as the Marcellus shale in the Appalachian region. Merrillville-based NiSource, for example, last year invested more than $150 million in tapping the Marcellus shale formation.

A recent outlook by financial services firm Morgan Stanley puts long-term natural gas prices holding at around $5.50, Thumb said.

"If the intent of the SNG contract is to provide a hedge against uncertain natural gas prices, there are more straightforward approaches to managing such uncertainty," Norman said. For instance, he suggested that gas buyers could buy an equivalent volume of natural gas using NYMEX forward contracts out through 2023 and essentially eliminate natural gas price uncertainty.

"This is a shorter period than is covered under the SNG contract, but this approach also would not subject the buyer to the [same] types of risks," he said.

Morton Marcus, a local economist testifying on behalf of the six gas distribution firms, estimates that the benefit to the average residential gas customer, under an anticipated $100 million savings, would translate to $64.18 per household.

"Over the course of 30 years, this sum averages—per household, annually—$2.14, or a pathetic 18 cents per month," Marcus said. "I do not find this to be a serious inducement for Hoosier households to be compelled to be involved in this speculative venture."

Stenger said he is concerned that plant proponents "unreasonably ignore" the historical relationship between the price of natural gas and coal.

Between July 2007 and July 2008, while the price of natural gas rose 89 percent, the price of coal rose 190 percent, he said.

Hinges on pipeline

Still, the terms of the contract are complicated.

Plant opponent Citizens Action Coalition tapped Robert McCullough, a former Portland General Electric executive who helped federal and state regulators weed through the Enron scheme.

McCullough has likened the Indiana Gasification contract to a derivative arrangement, one that he said could cost ratepayers $500 million if projections miss the mark. Gas customers would pay a "significant premium" over prices quoted on the New York Mercantile Exchange for a long-term hedge, he told the IURC.

CAC's program director, Kerwin Olson, said the recently filed concern of the seven gas firms "speaks volumes for our case. This is a bad deal for ratepayers. This is a case of monumental consequences to the state of Indiana and ratepayers."

Ultimately, the plant may not be built if Leucadia can't sell the massive amounts of carbon dioxide the plant will produce.

Its Indiana Gasification has signed a contract with Texas-based Denbury Resources to pump the byproduct via a pipeline Denbury proposes building in the region to connect with existing pipelines that would carry the carbon dioxide to the Gulf Coast region. Carbon dioxide is used to extract additional oil from oil wells.

The plan was dealt at least a temporary blow recently in the Indiana General Assembly, where a bill was defeated that would allow Denbury to effectively exercise eminent domain to acquire land needed for the pipeline. CAC said Denbury is working behind the scenes at the Statehouse to resurrect the bill.

The plant "will not be built unless there is an outlet for the CO2," either through the pipeline "or something similar," Donald Maley, a Leucadia vice president, told the commission.

"It simply would not be prudent to build a $2.7 billion coal and pet coke gasification plant without having an outlet for liquefied CO2."•